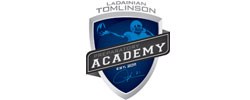 Fort Worth, TX (PRWEB) August 07, 2013
The LaDainian Tomlinson Preparatory Academy is pleased to announce that registration is open for Phase I of the Skills and Drills Clinic, taking place on September 7.
The primary focus of the clinic is both basic and advanced fundamentals, movements and skills for effective performance in each student-athlete's respective sport. The clinic was designed to teach proper skills and techniques in order to become a complete player.
The program includes the following:

Sessions are for both male and female athletes
All Sport Design
Skill Specific Detail Oriented Drills
Speed Enhancement Sessions
Team Oriented Drills for Competition
The clinic will take place at Indian Springs Middle School, 305 Bursey Road in Keller. There will be four sessions in total, every Saturday in September from 9– 10 a.m. The cost is $130 for each participant. Once registered, each attendee will receive a registration confirmation, welcome letter and other details about the event.
The goal of the LT Preparatory Academy is to provide athletes and parents alike with the education and guidance required to navigate the National Collegiate Athletic Association (NCAA) recruiting process. The Academy goes far beyond the performance training and collegiate advisory services offered at most facilities. Participation includes:
SAT/ACT preparation tips and information
Core course planning and monitoring
Utilization of software that enables each student and parent to actively plan their core course curriculum, monitor progress and manage their high school career with their college of choice in mind
Parental engagement
Comprehensive education for both student-athletes and parents
Seminars to provide information to parents, allowing them the opportunity to be completely informed about the recruiting process
To learn more about the LaDainian Tomlinson Preparatory Academy or to register for the Skills and Drills Clinic, visit http://www.lt-academy.com or email at info(at)lt-academy(dot)com.
About the company:
Founded by LaDainian Tomlinson and his former TCU teammates, the LaDainian Tomlinson Preparatory Academy offers comprehensive education, in combination with premier athletic performance training, to provide student athletes greater opportunities for success in earning athletic scholarships. To learn more or to register for an upcoming event, visit their website.
With the rapid evolution of athlete recruiting methods, the industry has been slow to increase awareness in the area of recruitment of high school athletes. The LaDainian Tomlinson Preparatory Academy's football camp gives parents and student-athletes comprehensive instruction on both educational requirements and the college football recruiting process.