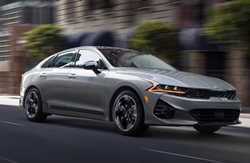 MOOSIC, Pa. (PRWEB) November 26, 2020
The Performance Kia dealership provides drivers in the Moosic, Scranton and Wilkes-Barre areas with quality new and used Kia vehicles. Drivers looking for the latest additions to the Kia lineup can find them at Performance Kia. The dealership has 2021 models of the Kia Soul, Kia Forte, Kia Seltos, Kia K5, Kia Sportage, Kia Sorento and Kia Telluride in stock now.
The Kia Seltos was the first Kia model to become available as part of the 2021 model year and is one of two brand-new models. The Seltos is a subcompact crossover SUV with a more traditional crossover design than the Kia Soul. There are currently eight Kia Seltos models at Performance Kia, including the LX, S and EX trims.
The 2021 Kia Forte is the automaker's compact sedan. Performance Kia has seven 2021 models currently in stock including the base trim, LXS, GT-Line and GT trims.
The Kia Soul is another subcompact offered by Kia. There are 17 2021 Kia Soul Models available at the Performance Kia dealership.
The beginning of the 2021 model year was the beginning of the Kia K5, a model designed to replace the Kia Optima. Shoppers can find 33 Kia K5 models at the dealership, including the LX, LXS, GT-Line and EX trims.
The 2021 Kia Sportage is a compact crossover SUV represented by 37 models at Performance Kia.
For the 2021 model year, the Kia Sorento was redesigned. Mid-size crossover shoppers have six 2021 Kia Sorento models to choose from at the dealership.
The Kia Telluride is the largest SUV made by Kia, with three 2021 models available at Performance Kia.
Drivers interested in any of the above 2021 model year vehicles should contact Performance Kia through the chat function on their website, over the phone at 833-336-1172 or on-site at 4225 Birney Avenue, Moosic, Pennsylvania, 18507.