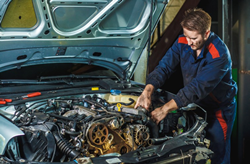 MOOSIC, Pa. (PRWEB) March 30, 2020
The Performance Kia car dealership is currently promoting a variety of service specials through coupons. During the current situation, the dealership's parts and services department remains open by appointment only. Customers who make an appointment with the parts and services department can redeem coupons for oil changes, tire rotation and balance, antifreeze system flush, battery testing, accessories and more. Coupons can be claimed from the dealership website.
Two coupons can be redeemed for oil changes. The first is a deal to get two oil changes for no charge after purchasing two oil changes at regular price. The other allows customers to get an oil change for just $19.95 plus tax, expiring on April 30, 2020. Neither of these coupons can be used in combination with any other offers.
Customers can receive $5 off a tire rotation or $15 off a tire rotation and balance through another coupon. Customers can also use a coupon to get an antifreeze system flush for just $99.95 plus tax until April 30, 2020. Customers who want no more than a battery test should take advantage of the coupon currently available for a free battery test that also expires on April 30, 2020. Accessory purchases can qualify for a 10% off discount through another coupon that expires on April 30, 2020.
Customers can receive free local delivery and pickup for repairs through another coupon provided they can pay in advance. This coupon cannot be used in combination with any other offer or coupon and expires on April 30, 2020.
Customers can take advantage of a Wild Car Savings coupon through the dealership site as well. This coupon can be redeemed for 10% off any repair up to $499 or 15% off any repair over $500. Discounts are limited to a $150 maximum.
Customers seeking to learn more about these coupons or how to schedule a parts and service appointment with the dealership should call 570-291-5294. The dealership is located at 4225 Birney Avenue, Moosic, Pennsylvania 18507.