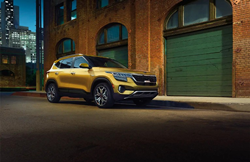 MOOSIC, Pa. (PRWEB) July 30, 2020
As the 2020 calendar year has passed into its second half, many car dealerships have received a few early 2021 models and are making efforts to advertise these new arrivals. For Kia, the 2021 model year began early when Kia released its first all-new model, the 2021 Kia Seltos early this year. The Seltos was not the only all-new model to arrive this year. The 2021 Kia K5 is now available at Kia dealerships as the second of two all-new models to become available in 2020.
The Kia Soul and Kia Sedona have also released 2021 models. These two models, along with the Kia K5 and Kia Seltos are all available now at Performance Kia in Moosic, Pennsylvania. Availability is limited and may change daily due to demand for recent arrivals and all-new models.
There are currently five 2021 Kia Seltos models being sold at Performance Kia. Three of these models belong to the S trim and come in a variety of colors. The other two models belong to the EX trim and are only sold in dark blue.
There are currently 15 2021 Kia Soul models available at Performance Kia. Eight of these models are of the LX trim level and are painted in a variety of common colors like red, white and black. There are only two models that belong to the X-Line trim and both are painted dark blue. There is also one model belonging to the performance-oriented GT-Line trim and it is also painted blue. Four base model Kia Soul models are available as well, painted either red or white.
There are currently six 2021 Kia K5 models. The most common trim among these models is the EX trim, at three models. There are one of each of the following trims, the LX, LXS and GT-Line. Due to each of these models being recent arrivals, shoppers are encouraged to contact the Performance Kia dealership for more information on paint color, features, availability and price.
The 2021 Kia Sedona is also available but in limited supply. There are two models currently listed at Performance Kia. One is painted white and the other dark blue. For more information on these or any other Kia models available at Performance Kia, shoppers are encouraged to call 833-336-1173 to speak with a representative. The dealership can also be contacted on location at 4225 Birney Avenue, Moosic, Pennsylvania, 18507.