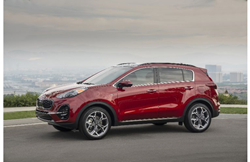 MOOSIC, Pa. (PRWEB) May 27, 2021
Performance Kia, a Kia dealership in Moosic, Pennsylvania has a large stock of subcompact, compact, and mid-size crossovers that they sell in the greater Scranton/Wilkes-Barre area. The Kia Sportage is a model that has been a practical crossover solution for small families for many years, and Performance Kia is currently promoting 2021 and 2022 model years of the Sportage.
At the time of this writing, there are six 2021 models of the compact crossover available at the dealership. All but one of these models belong to the S trim level. The one exception is a 2021 Kia Sportage EX, which is a higher trim level than the S trim. There are two brown Sportage S models, one blue Sportage S model, and two silver Sportage S models. The one Sportage EX model is also colored silver.
There are more 2022 models available at the time of this writing than 2021 models. There are 10 2022 Kia Sportage models for sale, most belonging to the 2022 Kia Sportage LX trim. This is the most basic trim available for the vehicle. There is one model without a trim level assigned at this time, and another that belongs to the Sportage EX trim, making it a premium option compared to the Sportage LX models.
For more information about the availability of the Kia Sportage or the difference between the 2021 and 2022 model years, shoppers are encouraged to contact a representative of the dealership on-site at 4225 Birney Avenue, Moosic, Pennsylvania, 18507. Shoppers may also call (570) 291-5271 or chat with a representative using the chat function on the dealership's website.