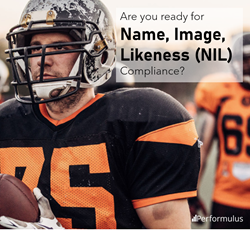 The Performulus NIL solution is well-suited to help colleges and universities of any size navigate this new NIL era.
KIRKLAND, Wash. (PRWEB) May 19, 2021
Performulus, Inc., a Seattle area tech startup, will hold a live webcast on Wednesday, May 26th at 9am PT / 12pm ET, to demonstrate their new Name, Image, Likeness (NIL) Compliance solution for colleges and universities. With new NAIA regulations in effect, and imminent new policies from the NCAA, colleges and universities must be prepared to manage the NIL process while protecting their liability and their student-athletes' eligibility.
"Allowing promotions and third-party endorsements is uncharted territory," said Michael V. Drake, former chair of the NCAA Board of Governors, "We must embrace change to provide the best possible experience for college athletes."
The Performulus platform has everything university athletic and compliance departments need to manage the NIL opportunity management process, including opportunity registration, communication and tracking, opportunity evaluation, and in-depth analytics and reporting. During their webinar on May 26th, the Performulus team will demonstrate how the solution will allow:

Student-athletes to earn compensation without jeopardizing their eligibility
Colleges and Universities to protect their compliance through properly managing NIL opportunities
Athletic departments and coaches to keep full visibility to NIL opportunities across all athletes and teams
The NCAA's guiding principles include maintaining the priorities of education and the collegiate experience to optimize opportunities for student-athlete success. Performulus has a complementary platform to their NIL solution that helps athletic departments and coaches meet these objectives.
The holistic athlete development solution provides players with a clear plan of what's expected through daily activity plans that can be personalized for each athlete. Activity plans (called Performance Formulas) help keep athletes focused not just on physical skills and strength and conditioning, but also on nutrition, academics, leadership, character development, mental health, career preparedness, and more, allowing coaches and universities to develop well-rounded student athletes who are prepared to succeed at their sport and in life after graduation.
"Our platform is well-suited to help colleges and universities of any size navigate this new NIL era," said Rob Griebel, President of Performulus. "We strive to make a difference in the lives of young athletes through helping colleges and universities protect compliance and eligibility while improving their athlete experience and preparedness programs."
To register for the webinar, please visit: http://bit.ly/Performulus_NIL