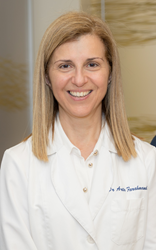 No longer should edentulous patients, or those without any teeth, suffer without a functioning smile.
Torrance, CA (PRWEB) December 20, 2018
On the leading edge of implantology, Dr. Arta Farahmand recently accomplished an intensive training on the SmartFix concept by Dentsply Sirona. This modern advancement allows skilled clinicians to precisely place four dental implants and offer an immediate, attractive and functional full-arch restoration on the same day. Offering dental implants in Torrance, CA, Dr. Farahmand is an experienced periodontist skilled at providing those with numerous missing teeth or loose dentures a solution that will truly offer lasting reliable, aesthetic and functional results.
No longer should edentulous patients, or those without any teeth, suffer without a functioning smile. With revolutionary advancements in dentistry, periodontists like Dr. Farahmand, are now able to place only four dental implants in the jawbone and attach lifelike and lasting full-arch restorations. Unlike dentures, these restorations are fixed, offering reliable support similar to a patient's natural teeth.
A two-day, hands-on training with live surgery, this SmartFix continuing education (CE) course taught and tested attendees on how to replace an entire arch of teeth with a combination of tilted and axial dental implants. A well-proven method, this technique is a more predictable way of placing tilted dental implants and ensuring a strong and healthy bond between the dental implant and the jaw bone.
Drs. Lyndon Cooper, board-certified prosthodontist and the Associate Dean for Research and Head of the Department of Oral Biology at University of Illinois School of Dentistry, along with Dr. Homa Zadeh, board-certified periodontist and tenured Associate Professor and the interim director of the post-doctoral periodontology program at the University of Southern California, lead this arduous course.
Although an accomplished periodontist, Dr. Farahmand's primary dedication is to help patients look and feel better. Applying leading-edge techniques whenever possible, she strives to offer the most minimally invasive and trusted solutions that can offer more than just improved oral health, but a lasting boost in confidence. Also a cost-effective solution, these full-arch dental implants in Torrance, CA, provide an uncompromising alternative to dentures allowing patients to finally regain the fully-functioning and aesthetic smile they miss.
To learn more about the SmartFix full-arch concept or to receive a consultation for dental implants in Torrance, CA, call 424-488-7500 to see trusted periodontist, Dr. Farahmand. Tooth loss can be troublesome but dental implants may be the smartest solution.
About the Periodontist
Dr. Arta Farahmand is an experienced periodontist serving the Torrance, CA area. With knowledge, skill, and dedication, Dr. Farahmand has made it her life's goal to help people look and feel better. Completing her bachelor's and Doctor of Dental Surgery degrees from Northwestern University, she later completed her specialty certificate in periodontics from Emory University School of Postgraduate Dentistry. An active member of American Academy of Periodontology, past president of the Western Los Angeles Dental Society and currently on the board of directors of the California Society of Periodontics among other organizations, Dr. Farahmand understands just how critical continuing education is in offering high-quality periodontal care. Dr. Farahmand offers the latest techniques for dental implants, laser gum disease therapy, gum recession treatment and a variety of other periodontal services at her state-of-the-art office. To learn more about Dr. Farahmand or her services, visit http://www.periodentalimplants.com or call 424-488-7500 for a personalized consultation.