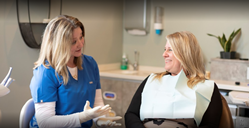 Patients love the fact that LANAP treatment is less invasive with a quicker recovery time than traditional surgery for gum disease. - Dr. Lisa Ravenel, LANAP trained clinician
GREENVILLE, S.C. (PRWEB) October 30, 2020
Greenville Periodontist Dr. Lisa Ravenel now offers the LANAP® protocol to treat patients with gum disease and LAPIP™ protocol for ailing dental implants. As a LANAP-trained clinician, Dr. Ravenel is at the forefront of the future of dentistry, joining a top-tier class of clinicians who put their patients first using FDA-cleared LANAP treatment.
"Gum Disease is a rampant problem and tied to systemic diseases including heart disease and diabetes," states Dr. Ravenel. "The goal is always to treat the disease, but some patients simply don't want traditional surgery. Patients love the fact that LANAP treatment is less invasive with a quicker recovery time."
LANAP treatment targets the bacteria and endotoxins causing gum disease without harming healthy tissue. The recovery time is much quicker and patients report less pain when compared to traditional surgery. The LANAP protocol is also the only treatment of its kind with FDA clearance based on scientific research to regenerate the bone and tissues lost to gum disease.
Studies have shown a link between gum disease and other serious illnesses, such as heart disease, stroke, cancer, diabetes and more. With such a widespread impact on our total health and because it will lead to the gradual destruction of the gums and supporting bone if left untreated, it's important to address gum disease as early as possible.
If you have gum disease, it may be possible to save many of the teeth that might otherwise be extracted. Research shows that retention of natural teeth has been shown to increase your lifespan!
For information on the LANAP protocol, call Ravenel Periodontics at (864)626-4777 or visit us at RavenelPerio.com
About Dr. Ravenel
Dr. Lisa Ravenel is a Greenville-area native whose love of human physiology and pathology became evident to her in her early 20's. On a personal note, she takes time to get to know her patients, understand patient goals, and educate them on viable and available options.
She holds degrees from the University of South Carolina and the Medical University of South Carolina for her Bachelor of Science in Biology, Doctorate of Dental Medicine, and specialty training for periodontics and implant surgery, as well as a Masters in Health Sciences. Dr. Ravenel is a member of various organizations, including the American Dental Association, the South Carolina Dental Association, the American Academy of Periodontology, and the Southern Academy of Periodontology.
What she loves most about the specialty is the science-based nature of patient care. Each situation is different and the challenge is to determine what components are needed for success.