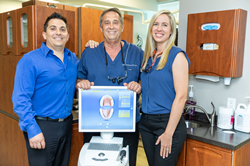 I was looking for quality, but I got more than that. I got quality, honesty, and integrity.
BRADENTON, Fla. (PRWEB) July 30, 2020
The Eastman Periodontics and Implants team has now been providing high-quality and trusted periodontal care for 40 years. Esteemed periodontists, Drs. Lindsay Eastman, Christie Eastman-Craighead, and Justin Craighead have been honored to serve their community and look forward to not only continuing to offer honest periodontal care, but further their field with innovative techniques and minimally invasive alternatives.
"I was looking for quality, but I got more than that. I got quality, honesty, and integrity," says a long-time patient of Dr. Eastman. According to many, this practice offers an experience unlike many others; a personal one.
Dr. Lindsay Eastman founded Lindsay B. Eastman, DDS, MS, PA in Bradenton, Florida in 1980. A periodontal specialist, he was already qualified to offer expert gum disease treatment, soft tissue grafting, and dental implant surgery, among other treatments. A life-long learner, he continues to expand his skillset with the latest techniques to ensure his patients receive the highest quality services that minimize pain, reduce healing times, and maximize the effectiveness of treatment.
As a result, he was not only one of the first in the United States to be trained in computer-guided dental implant surgery, which takes the guesswork out of implant placement, but one of the first in his area to offer LANAP®, the only FDA-cleared laser periodontal disease technique. Beyond what was taught to him, Dr. Eastman combined his training and certifications with practical experience to develop his own less invasive techniques including a unique approach to gum grafting that drastically reduces patients' pain.
Over the last 40 years, Dr. Eastman and his team have made significant advancements in their technology, their team, and their treatments. The PerioLase® MVP-7™ dental laser, cone beam CT scanner, OralDNA® tests, Piezosurgery®, and plasma rich growth factors all play their part in a transformational and comfortable treatment experience at Eastman Periodontics and Implants.
In 2014 Dr. Eastman opened his second practice, Eastman Periodontics and Implants, in Lakewood Ranch, FL before two new periodontists, his daughter and son-in-law Drs. Christie Eastman-Craighead and Justin Craighead, joined the practice in 2016. In fact, Dr. Craighead is one of the only dual specialists in periodontics and prosthodontics in the state of Florida. Together this team of educators and distinguished periodontists has performed thousands of successful gum disease treatments, dental implant placements, and tooth extractions.
A family practice, Dr. Eastman's team continues to provide the same patient-centered values that he founded the practice on. As Dr. Eastman stated, "We will go above and beyond to make sure our patients are cared for. That's what I'm passionate about, coming to work and saying, 'let's make it a great day by changing a patient's life.'"
Those interested in receiving high-quality periodontal care from a team of respected periodontists can schedule a personalized appointment at either of their two locations in Bradenton or Lakewood Ranch, FL. More information on the treatments they offer or the technology they use can be found on their website at http://www.eastmanonline.com.
About the Periodontists
Eastman Periodontics and Implants was founded by Dr. Lindsay Eastman in 1980. Now with two locations in Bradenton and Lakewood Ranch, FL, Dr. Eastman also has two associates, his daughter Dr. Christie Eastman-Craighead and his son-in-law Dr. Justin Craighead. Dr. Eastman is a respected authority in periodontology with experience implementing revolutionary techniques and developing ones of his own, he continually sets and surpasses the bar for periodontal care. A skilled and published periodontist, Dr. Eastman-Craighead received her Doctorate of Dental Medicine Degree and her Professional Certificate in Periodontics from the University of Florida. Dr. Craighead is both a periodontist and a prosthodontist, a feat rarely accomplished by clinicians across the country. The team at Eastman Periodontics and Implants blend the latest, minimally invasive technology with an honest approach to care. To learn more about these doctors, the services they offer, or their cutting-edge practice, visit http://www.eastmanonline.com or call 941-792-3899 for the Bradenton location or 941-351-3000 for the Lakewood Ranch location for a personalized consultation.