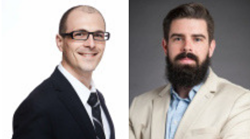 YORBA LINDA, Calif. (PRWEB) September 25, 2018
Simultaneous quantitation of multiple biomarkers in intact tissue specimens holds the key to many questions concerning the biological basis of health and disease by allowing complex cellular interactions to be captured and analyzed.
However, reliable detection remains elusive due to technical challenges from many sources, including antibody cross-reactivity, difficulty in balancing signals from rare and abundant targets, tissue autofluorescence and interference between fluorophores, especially for co-localized targets.
In this webinar, application scientists from PerkinElmer, Inc. will present a practical and validated method for highly multiplexed tissue biomarker analysis that addresses many of these challenges. Opal™ staining is an antibody-agnostic technique, which produces highly specific and reproducible results and when combined with multispectral imaging systems, such as Vectra®, is able to detect six or more biomarkers simultaneously in one tissue section.
Simultaneous detection of multiple antigens on a single tissue with multispectral imaging and analysis reveals spatial relationships between cells with the resolution needed for high-precision proximity analysis and detection of intracellular localization of targeted antigens. By elucidating the relationships between cells, Opal staining allows you to see intercellular relationships in the context of the microenvironment.
Through this webinar, participants will learn why multispectral imaging is important for generating high-quality data, as well as best practices for analyzing relationships between cells. The speakers for this event will be Dr. Grady Carlson and Dr. Linden Wyatt, field applications scientists for Quantitative Pathology Solutions at PerkinElmer.
LabRoots will host the webinar on October 11, 2018, beginning at 8 a.m. PDT, 5 p.m. CEST. To learn more about this event, the speakers, or to register for free, click here.
About PerkinElmer, Inc.
PerkinElmer, Inc. is a global leader focused on innovating for a healthier world. The Company reported revenue of approximately $2.3 billion in 2017, has about 11,000 employees serving customers in more than 150 countries, and is a component of the S&P 500 Index. Additional information is available through 1-877-PKI-NYSE, or at http://www.perkinelmer.com.
About LabRoots
LabRoots is the leading scientific social networking website, which provides daily scientific trending news and science-themed apparel, as well as produces educational virtual events and webinars, on the latest discoveries and advancements in science. Contributing to the advancement of science through content sharing capabilities, LabRoots is a powerful advocate in amplifying global networks and communities. Founded in 2008, LabRoots emphasizes digital innovation in scientific collaboration and learning, and is a primary source for current scientific news, webinars, virtual conferences, and more. LabRoots has grown into the world's largest series of virtual events within the Life Sciences and Clinical Diagnostics community.