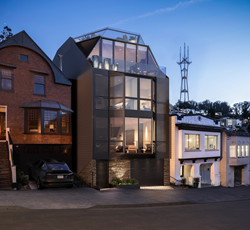 " I believe now more than ever that the future of clean living will be increasingly sustainable and health-centered" Gregory Malin, CEO Troon Pacific
SAN FRANCISCO (PRWEB) November 11, 2020
Residence 63 is a stunning modern home designed by San Francisco's preeminent developer Troon Pacific and architecture firm OPA, at a sophisticated level for discerning property buyers.
Luxury Permit in hand for an expedited custom build. Avoid 4 – 6 years in the San Francisco planning process.
A permit realizing architectural design of this caliber can take 4 – 6 years of dedicated work by a team of professionals.
Build the spectacular Residence 63 as designed or customize the property with sustainability goals and health and wellness enhancements.
Troon Pacific's affiliated GC, Impact Builders, is ready to move forward with an established construction budget based on preferred subcontractor bids, and a 14-month construction schedule. This offering also saves time and money on the pre-construction process and allows a buyer to break ground on Day 1.
Clean, Healthy Living has never been more important than it is today.
The infrastructure of this home is designed to Troon Pacific's standards and is capable of supporting LEED Platinum certification, advanced water and air filtration and ventilation systems, and smart home technology systems including integrated and programmable security, lighting, sound, heating and cooling.
Design and Amenities
With no rear neighbors, this site uniquely offers peace and privacy for outdoor living and entertaining in the city. The four-bedroom, 4 ½ bath, 4,590 square foot home features a garage for 3 cars, three large terraces, and a roof deck.
About the Developer
Troon Pacific: Troon Pacific, Inc. is a mission-focused, San Francisco-based luxury home developer that creates high-performance, high-quality homes for discerning, sophisticated buyers that care about building health, wellness and sustainability. Founded by Gregory Malin, CEO, Troon Pacific has been praised worldwide.
"I believe now more than ever that the future of clean living will be increasingly sustainable and health-centered. Now is a time when your home has become more than just a residence, but also an office, a school, a gym. We need to be certain about the air we breathe, the water we drink, and the environment we live in. At 63 Carmel we can do just that and deliver you peace of mind." Gregory Malin, CEO Troon Pacific
About the Architect
Ogrydziak Prillinger Architects (OPA):
At OPA, we believe in progressive built work, driven by ideas. We believe that architecture influences how we see the world and live in it.
About the Builder
Impact Builders uses processes and materials that represent the latest thinking about aesthetics, environmental Impact and the creation of the finest residences that support occupants' wellness
For more information
https://www.residence63.com
https://www.troonpacific.com
https://impact-builders.com