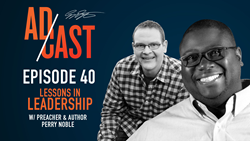 CHARLESTON, S.C. (PRWEB) August 26, 2020
Perry Noble, the pastor of Second Chance Church in Anderson, South Carolina, joins Eric Elliott on the podcast, The AdCast, discussing his truths, lessons in leadership, and his second chance.
In 2016, Perry Noble was dismissed as senior pastor of NewSpring Church and has since received his second chance.
"It's a daily process," Noble tells Elliott when asked about overcoming his past. "I literally get up every day and try to figure it out. There's a lot of people that think I should just go away, and I don't feel like that's what the Lord wants."
Since leaving NewSpring Church, Noble says he feels he can be raw and more authentic simply because he feels the freedom to be himself, not caring about what others may think of him.
During the interview, Perry Noble tells Eric Elliott he now knows who Perry Noble is.
Listen to the full episode at http://www.veryimportantplacement.com/our-podcast.
Request to be a guest on The AdCast or send other inquires to annika@veryimportantplacement.com