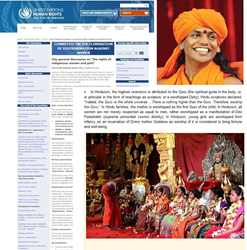 HIGHLIGHTS OF THE REPORT The report highlighted the roots of the modern Hindu Genocide. (1) use of media as a weapon to delegitimize and persecute Hindus, (2) State funded Terrorism targeting Hinduism, especially minority communities that worship primordial cosmic divinity as divine mother.
LOS ANGELES (PRWEB) July 09, 2021
On June 24, 2021 a virtual conference, as part of the ongoing 79th session of the United Nations OHCHR's Committee on the Elimination of Discrimination against Women (CEDAW) was held on the rights of Indigenous women and girls.
The United Nations CEDAW recognized the persecution of the SPH Nithyananda Paramashivam and United Nations Recognizes the Persecution of the Supreme Pontiff of Hinduism and KAILASA's Adi Shaivite Community, marking a huge milestone in the history of Hindus and humanity as the centuries of persecution, injustice, and violation of fundamental human rights have come to the forefront, no longer hidden. The SPH Nithyananda Paramashivam has been facing persecution for over two decades, especially for His highly progressive stance on true women empowerment.
The massive lawfare, assassination attempts, sexual assaults and rapes, character assassination, shaming and sexual objectification, children abuse among many other attacks on The SPH Nithyananda and KAILASA, especially the female followers, has been taken a serious note of and the attached report published on the UN website by the Committee on the Elimination of Discrimination against Women.