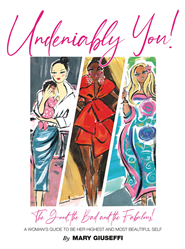 "This book is so much more than about wardrobe and style and fashion. It's about fashioning your life into the masterpiece that it was meant to be." - Dr. Ish Major, The Host of WeTV's Hit Series Marriage Bootcamp Reality Stars One Of America's Top Psychiatrists
PALM BEACH, Fla. (PRWEB) November 17, 2020
Mary Giuseffi, a Personal Branding Expert with over 50 years in the fashion industry wrote this book to teach women how to look good and feel great through building a wardrobe and style inspired their authentic selves. The book is available in kindle and hardcover, visit MaryGiuseffi.com for details.
"When a woman looks in the mirror, I want them to fall madly in love with the person they see. "Undeniably You!" is the culmination of all that I have learned and experienced throughout my career in the fashion industry. Many women feel overwhelmed when trying to buy clothes and wind up wearing the same outfits over and over again because they can't find anything that fits them properly or matches their inside feelings with their outside world and everyday life. My goal is to teach women how to become their highest and most beautiful selves by allowing them to truly create their unique style personality, dress for their life's purpose and their figure, taste, budget, lifestyle, and career." – Mary Giuseffi
Being a Ford Model since the age of 11 sabotaged Mary Giuseffi's image and for years she punished herself for never being or looking good enough. Eventually, she began to understand that how she felt about herself began with how she felt about the skin she was living in. She needed to claim her space in the world regardless of whether she was a size 2, 8, or 20! Now, Giuseffi has over 5 decades in the fashion industry as a Model, Spokesperson for Luxury Brands, Personal Stylist, Image Consultant, and Fashion Show Producer. She is an internationally recognized Fashion & Relationship Expert on many stages and TV shows including The Today Show. Giuseffi has taken her life experiences and extensive knowledge and transformed it into a book for every woman wanting to look and feel her best.
What Will You Learn in Undeniably You!

Discover your archetype personality and authentic nature.
Define your style personality.
Determine your body type and frame your physical being.
Delve into your divine colors and describe your soul's mission.
Display a visual seasonal energy eld that is in alignment with your coloring and optimizes your potential.
Delineate, raise, and refine your vibration to match your ideal self.
Design a wardrobe that embodies and portrays to the world who you are, what you want, and how you will impact with your unique talents, passions, and abilities.
Explore your image as art.
Experience how to shop like a stylist.
Explode onto your runway in your style DNA platform and become Undeniably You!