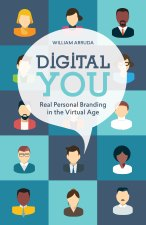 "Personal branding is alive and well in its new digital-first version and is in fact one's most valuable career asset if developed and used properly," says author William Arruda.
ALEXANDRIA, Va. (PRWEB) October 02, 2019
Despite talk that the personal branding revolution is over, there is a new era of digital personal branding that is not only thriving but vital to success. In Digital You: Personal Branding in a Virtual Age, branding expert and author William Arruda contends that while the analog personal branding of the 1990's and 2000's is indeed over, the death of personal branding is just myth.
Arruda identifies nine trends in what he calls the personal branding reboot: nexting, flextrapreneurship, digital first, brandscaping, treadmill learning, digital advocacy, distance branding, digital dexterity and Youcasting. Understanding these trends is critical to one's ability to amp up success and happiness at work.
"Personal branding is alive and well in its new digital-first version and is in fact one's most valuable career asset if developed and used properly," says Arruda. "The myth of its death results from confusion by those who confound use of social media with what is actually required to stand out in a noisy world of information overload."
"We live in an ever-changing virtual age where first impressions are now commonly made through one's digital presence—a first impression is not necessarily a result of the first handshake or in-person conversation. As such, it is important to make strong digital impressions to stay relevant, visible and valuable. One must master new rules and tools. Regardless of who you are and where you are in your career, craft your digital brand of distinction," states Arruda.
Arruda outlines how to do this in four strategic, logical and serial parts mirroring the personal digital journey he asks the reader to take:
Real You + Virtual You + Visual You + Social You= Digital You
From defining your authentic story and translating that for a digital audience, Arruda guides you step by step on how to create your unique digital brand and build your network. "I'll guide you on how to be a multi-media standout and show you how branding tools—especially LinkedIn—can be utilized for maximum results.
About the Author
Dubbed 'the personal branding guru" by Entrepreneur magazine, William Arruda has been credited with turning the concept of personal branding into a global industry. A corporate branding veteran, William is the founder of Reach and CareerBlast.TV. American Express, Google, Gucci, IBM, J&J, LinkedIn, Pepsi, and Target are just a few in a long list of clients. As a thought leader, William is a spokesperson on personal branding and social media. He has appeared on BBC TV, the Discovery Channel, and NPR, and he's been featured in more than 1,000 publications. He's the bestselling author of Ditch. Dare. Do! and Career Distinction, and he writes a regular column for Forbes.
About ATD and ATD Press
The Association for Talent Development (ATD) is the world's largest association dedicated to those who develop talent in organizations. ATD's members come from more than 120 countries and work in public and private organizations in every industry sector. ATD Press publications are written by industry thought leaders and offer anyone who works with adult learners the best practices, academic theory, and guidance necessary to move the profession forward. For more information, visit https://www.td.org/books.
Digital You: Real Personal Branding in the Virtual Age
ISBN: 978-1-949036-75-6 | 232 Pages | Paperback
http://www.td.org/books/digital-you
To order books from ATD Press, call 1.800.628.2783.
To schedule an interview with Mr. Arruda, please contact Kay Hechler, ATD Press senior marketing manager, at khechler@td.org.