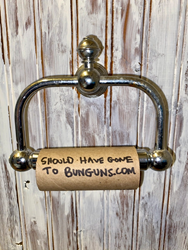 In fact, the "Pew Pew" BunGun™ is an economical, ethical and hygienical solution to the toilet paper shortage.
SEATTLE (PRWEB) March 17, 2020
With the toilet paper shortage wreaking havoc in bathrooms across the country, a new alternative product has surfaced, the "Pew Pew" BunGun™.
The company founders have described the BunGun™ as a hybrid product somewhere between "half Neti Pot and..half Porta Potty"
In fact, the "Pew Pew" BunGun™ is an economical, ethical and hygienical solution to the toilet paper shortage, states the company website.
"While many people spend hundreds of dollars on toilet paper a year, and thousands over their lifetime, the BunGun™ is less than $30 and has an infinite lifespan," according to C.J. Doll, Company Co-Founder and self-proclaimed C.E.Go.
The company website states that using toilet paper to wipe urine and feces around the body only further spreads germs rather than the well-intentioned purpose of setting out to clean. The website further states that the BunGun™ cleans the area with sanitized water and contributes to good hygiene.
Further, the "Pew Pew" BunGun™ is environmentally friendly, citing toilet paper production statistics that require nearly 15 million trees be cut down every year, as well as a significant amount of energy and water usage.
One of the most impressive features of the BunGun™ is its portability.
Company C.E.Go. and Co-Founder C.J. Doll added a company philosophy, "We interpret the U.S. 'Constitutional' to give people the 'Right to bare buns' when 'Going #2' without the fear of their BunGuns™ being taken by the government.
Doll also stated the company plans to continue innovating in the Direct-To-Consumer personal hygiene sector and plans further releases of products such as the "Fanny Hose.™" to be delivered in a custom Fanny Pack.
According to company website literature, there exists a toilet-stationary "Bum Gun" which is the preferred delivery method of bathroom sanitation popular in India, Vietnam, Europe and Australia. The company adds that "It is long overdue that we bring this innovative hose-like technology to the West in a brand and message that will resonate with the public. The people are ready for this."
According to Doll, "By purchasing a "Pew Pew" BunGun™ now, you can avoid the upcoming "Bundemic," save a lot of money over a lifetime and practice better hygiene and "Wokeness."
The company advises consumer to take a "relaxative" approach and stop flushing time and money down the toilet and to visit http://www.bunguns.com for more information on the "Pew Pew" BunGun.™