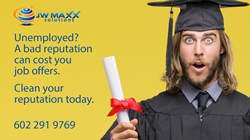 For Hiring In today's digital age the hiring process is not how was ten years ago.JW Maxx Solutions explains what companies are now doing to hire the right employees for today'sjob market. Personal online reputation managemen
PHOENIX (PRWEB) January 31, 2019
Personal Online Reputation in 2019 by JW Maxx Solutions
For hiring in today's digital age the hiring process is not how it was ten years ago. JW Maxx Solutions explains what companies are now doing to hire the right employees for today's job market. Personal online reputation management done by large online reputation management firms has become increasingly popular for businesses of all sizes.
Online reputation management firms assist organizations that are looking for specific qualities and skills in their employees. A simple resume is no longer enough to get the average candidate an interview. Employers now utilize these firms to do background checks and scrutinize online social profiles of potential candidates. So why has this become so important in today's marketplace?
JW Maxx Solutions founder, Walter Halicki explains the following, "Imagine searching someone's online profiles and you find inappropriate comments or phrases calling themselves 'The Sinner.' One would ask themselves is this the type of person we would want representing our brand?" Walter Halicki went on to explain, "Pictures of partying and drunkenness may be best not posted for the world and especially potential employers to see."
JW Maxx Solutions assists this new generation of job seekers with their personal online reputation management. The simple truth is that what you post when you are fifteen may affect you years later when applying for college or a job. It is an established fact that more than eighty percent of Human Resource Directors will research potential candidates on multiple social media websites.
JW Maxx Solutions founder Walter Halicki gives this advice, "Don't post political opinions or narratives that may offend someone. Not everyone shares your beliefs no matter how right or wrong they may be. Keep your posting neutral and positive".
JW Maxx Solutions is one of the leaders in online reputation management. They are headquartered in Phoenix Arizona with offices in Panama City and Mexico. They have been offering their services for a decade and continue to keep growing. When you need a company to help you control how you look online reach out to JW Maxx Solutions for a free, no-obligation consultation.