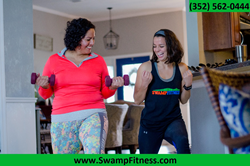 Our best form of marketing is doing everything we can to provide convenience, and ultimately empower our clients to get health and fitness results!
GAINESVILLE, Fla. (PRWEB) October 29, 2019
The founder of Swamp Fitness, Jarred Mussen, has been helping Alachua County residents get results by re-igniting their healthy habits for more than seven years. Many people want to improve their health and fitness results or get started on their health journey but are lacking the motivation, guidance, and accountability. This leaves many people putting off an exercise routine or healthy nutrition plan. Many Gainesville residents are challenged with finding time to consistently drive to the gym, let alone create an exercise and nutrition plan that is effective within their busy lifestyle.
Faced with greater time constraints from work, childcare, etc., Americans often skip out on exercise and turn to more convenient food options with lower nutritional values. Although not exercising and opting for unhealthy convenience foods both save time, they tend to leave people with less energy and a poor mood. The consequences of not establishing consistent exercise and healthy nutrition habits has many health risks and can have a major negative impact on our mental health which takes away from the important areas of our lives that are taking up our time.
In order to protect health and quality of life, many feel the need for a proactive solution to empower individuals to get effective health results such as working with a personal trainer Gainesville FL. Health experts recommend that adults should be getting at least 150 minutes of exercise per week. This task can be monumental to people who are struggling with losing weight, improving mood and energy, as well as preventing health conditions such as high blood pressure, depression, diabetes, and obesity. Many middle-aged individuals have an awakening after learning about the reality of their current health state from their doctor, causing them to take action with prioritizing their health in effort to make the most of life.
Hiring a personal trainer in Gainesville, FL that will travel to the clients' home within the schedule that works best for the client's lifestyle is very effective at not just getting the client their desired fitness results, but also establishing the sustainable routine habits that will help the client stay committed even after they finish their personal training program. The accountability of a fitness professional showing up to the client's home ensures that they stay consistent with their exercise and nutrition program.
The company, Swamp Fitness has a team of Registered Dietitian Nutritionists and Certified Personal Trainers in Gainesville, FL who truly care about you and your health and have expertise with providing individually customized exercise prescription and nutritional coaching. Swamp Fitness matches you with the personal trainer and registered dietitian nutritionist that is the best fit for you based on your goals, personality, and preferred training style. Rather than having to carve out time to drive to the gym and come up with a plan, this company has been able to offer Gainesville personal training at your preferred location (such as your home) and within the availability that works best within your life. They understand the importance of your health and truly want you to live life to the fullest.
Swamp Fitness has these four core values at the essence of how they operate: Authenticity. Compassion. Responsibility. Progress. Their Gainesville personal training services are for people who need it most, those who you don't see in the gym and are having major challenges with living a healthy lifestyle and getting the health and fitness results they want. Their message that they are trying to get out is that they are committed to helping Gainesville residents get health results in the comfort and convenience of their own home and within their availability. Contact Jarred Mussen for further information at SwampFitness@gmail.com or call to speak directly with Jarred at 352-562-0444. You can also visit https://www.swampfitness.com/.