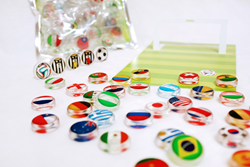 This FIFA World Cup season, enjoy a football match anytime, anywhere by eating or playing with these time-limited national flag candies.
Taipei, Taiwan (PRWEB) June 03, 2014
Soon the long, four year wait for the World Cup will be over, as the best footballers from all over the world converge on Brazil. Millions more will watch around the globe. Boncha Boncha, a renowned custom candy company in Taiwan, knows a great football game demands a tasty snack. So they are excited to announce a limited edition line of national flag candies. Each set includes 38 candies, 33 national flag candies, 2 candy footballs, 3 referees, a cardboard football field and goal. Boncha Boncha offers kits for all 32 tournament teams.
"Look, you may as well admit it. For many, it doesn't feel very fulfilling just to sit there and watch a match. Others need a constructive outlet for their nervous energy when their favorite team is involved in an exciting match. Sometimes it's not easy to get a group together to play on the field. But now you can kick the ball all by yourself—with only one finger," said Corina Huang of Boncha Boncha.
Just take out the portable goal, select 11 candies for a favorite team, and go head to head with a friend's favorite team. Or create an All-Star match anytime, anywhere. There are even red and yellow card candies, so referees can keep a lid on even the most exuberant match. Fair and open games are guaranteed.
Made of natural sugar extracted from beet root, these national flag candies will help fans keep track of match days and keep engaged in the game. These new national flag candies can become a meaningful element of superstitions and match day rituals. After the match, simply eat them all as a quick-energy boost. Or, if a team loses, no worries; vent by eating up the winning team's candy. The goal card doubles as a placemat.
This FIFA World Cup season, enjoy a football match anytime, anywhere by eating or playing with these national flag candies, available only for a limited time. They are perfect for betting on teams before a match, getting refreshed during commercials, or showing off after the game, the national flag candies are a one-in-a-million treat.
The Limited National Flag Candies for the FIFA World Cup 2014 is available for purchase for $26.00 per set (including box) from the Boncha Boncha.
"This FIFA World Cup season, enjoy a football match anytime, anywhere by eating or playing with these time-limited national flag candies."
-------
Contact
Corina Huang
Boncha Boncha
+886 978857100
Email: hello@bonchaboncha.com