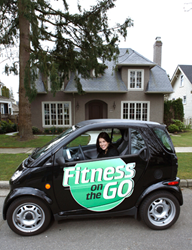 London, Ontario (PRWEB) May 23, 2014
Fitness on the Go in-home personal trainers deliver fitness directly to you, regardless of where you are located in London and the surrounding area. Their certified personal trainers have been delivering fitness to clients across Canada since 2005, and are now servicing London and area as of April 2014. Fitness on the Go is a Canadian owned in-home fitness and personal training company dedicated to helping communities achieve healthier and fitter lifestyles.
Your Fitness on the Go London Personal Trainer may be one of two knowledgeable, passionate professionals:
Lisa Moore is a canfitpro certified Personal Training Specialist with Fitness on the Go who recently made the career change from her 9-5 desk job to training full-time because she is passionate about helping people reach their fitness goals. With over six years' experience motivating people to be active; first as a cardio kickboxing instructor, and for the last three years as a personal trainer, Lisa enjoys encouraging everyone to discover the benefits of a fitter, healthier lifestyle in a fun, positive manner.
Mandy Rust is a Fitness on the Go personal trainer who decided to pursue healthy living as a career. She graduated college with certificates in Fitness and Health Promotion, along with the Canadian Society for Exercise Physiology Certified Personal Trainer. She also has her TRX and group training certifications, and is always taking extra courses and workshops to stay up to date and expand her knowledge even further. Mandy feels everyone has their own journey on the path to health and happiness, and it is her pleasure to support that journey and aid in any way she can.
Fitness on the Go makes exercise easy and accessible by bringing an individualized program and a qualified in-home personal trainer to a client's home. They understand that in today's society, schedules are busy, children's activities come first, and gyms can be crowded, intimidating and unfriendly. Their London personal trainer will work with the client's schedule to ensure they get a workout when it is convenient for them.
Fitness on the Go will not only come to a client's home to help them get fit, but will work with them to develop a customized fitness plan that will help you reach their goals. No equipment is needed —the only requirements are some floor space, 60 minutes, and a positive attitude.
For more information, please visit fitnessonthego.ca.