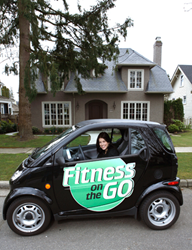 Vancouver, BC (PRWEB) June 18, 2014
"Growth takes a lot of structure and organization," states Mezheritsky, president of Fitness on the Go. "It hasn't been an overnight success, we are in our 9th year of business, and the structure has not been an easy one to build to support so many people in our organization."
Fitness on the Go makes exercise easy and accessible by bringing an individualized program and a qualified in-home personal trainer to you. They understand that today's society schedules are busy, children's activities come first, and gyms can be crowded, intimidating and unfriendly. Their personal trainers in Victoria will work with your schedule to ensure you get a workout when it is convenient for you.
With Fitness on the Go clients can forget about early mornings or rush hour traffic just to get to a gym. They do not need a gym to get fit; there are many other ways to get in shape and one of the best ways is in the comfort of their own home. Fitness on the Go will not only come to the client's home to help them get fit, but will work with them to develop a customized fitness plan that will help you reach their goals. Clients do not need any equipment - all that is required is some floor space in your home, some time out of your schedule, and positive attitude.
Fitness on the Go personal trainers each are independent owner operators that benefit from the national structure brand and structure, including a centralized website, call centre, software, marketing, accounting, design, and business coaching to help them operate.
Even a 'part-time' personal trainer with Fitness on the Go earns $3,000 per month with only 13 sessions of work a week. In 2012 the average Fitness on the Go trainer earned over $38,000, compared to $20,500 from a large national gym.
"Working a full time schedule for $21 can't be good for the employees moral. That isn't enough money for someone to feel like they are compensated for their knowledge and efforts. I believe in giving an opportunity where people can really succeed and reap the rewards of their efforts." Mezheritsky states.
"My goal is to continue our strong growth, and to help more Canadians achieve their fitness goals." Mezheritsky states.
Click here to learn more about Fitness on the Go's fitness franchise opportunities. Fitness on the Go operates with personal trainers in Vancouver and surrounding areas, Kelowna, Victoria, Nanaimo, Calgary, Winnipeg, Toronto and surrouding areas, Barrie, Guelph, Hamilton, London, Ottawa, Montreal, Saint John, Halifax and Moncton.