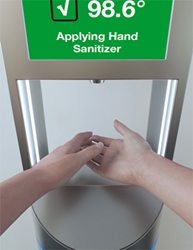 We're proud to be the first business in Austin to offer this new technology and believe that the new kiosk, alongside other preventative measures, will help ensure a safer, healthier space for everyone.
AUSTIN, Texas (PRWEB) August 26, 2020
Personique Surgery Center announced today the addition of the revolutionary Sentry Health Kiosk™ to their offices to ensure a safer, healthier environment for patients and staff alike. This advanced, touch-less kiosk is designed to help mitigate the spread of COVID-19 and other transmittable flu-like viruses and diseases.
The kiosk interfaces with the building's automatic front door, providing crucial access control to the Personique Surgery Center, Personique On The Spot med spa, and the Austin Clinic for Men. The device requires visitors to follow a series of prompts and answer a CDC CoVid related health questionnaire before granting them access to the building. The high definition screen allows for touch-less interaction by automatically recognizing gesture-based responses, such as an up and down head nod for yes and a side to side nod for no.
The kiosk also comes equipped with infrared thermometers that can scan body temperature, technology that detects if a visitor is not wearing a face mask (or wearing it improperly), and an automated hand sanitizing dispenser, making it mandatory for all visitors to sanitize their hands before entering the building.
If the visitor does not follow the prompts or answers a question that indicates high risk, the kiosk will call Personique staff to notify them of the failed attempt. Staff will then decide if the visit should be deferred to a later date, or if alternate arrangements can be made.
The addition of the Sentry Health Kiosk™ is just one component in Personique's comprehensive plan to help improve the safety of tenants, employees and visitors. All air conditioners have been upgraded with ultraviolet lights to minimize the probability of transferring CoVid, Influenza, molds and other pathogens. Personique On The Spot's second location at The Domain is currently adding the new UV light system, as well.
"We wanted to take a layered approach to re-opening," said Manager for Personique, Angelica Hesles. "Our focus is on risk reduction and doing everything we can to mitigate the asymptomatic spread of Covid-19. We're proud to be the first business in Austin to offer this new technology and believe that the new kiosk, alongside other preventative measures, will help ensure a safer, healthier space for everyone."