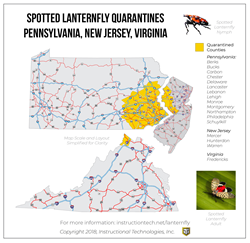 Trucking plays a key role in helping to control this growing infestation by training drivers to identify the bugs and larvae and keep them from moving on vehicles or in products
VANCOUVER, Wash. (PRWEB) December 14, 2018
Instructional Technologies Inc. (ITI), providers of training solutions for the transportation industry including PRO-TREAD online training content and the Sentix training automation platform, today launched a new Spotted Lanternfly training course. New training, certification and recordkeeping requirements are now in place for drivers operating in and around quarantine areas to help address the spread of the invasive pest that is harmful to hardwoods, vineyards and hops, and other crops.
In recognition that this issue is quickly changing, ITI is also launching a Spotted Lanternfly information and reference page for trucking companies at:http://hub.instructiontech.net/lanternfly.
According to the Dean of Penn State's College of Agricultural Sciences, the Spotted Lanternfly is "potentially the worst invasive pest since the introduction of the gypsy moth nearly 150 years ago." Pennsylvania officials have said it could cost the state $18 billion in crop damage. Pennsylvania and neighboring states are actively pursuing containment and control measures to stop the spread of the Spotted Lanternfly to other regions. As part of those measures, drivers stopping in the quarantined areas must be trained and perform inspections. The rules apply to any driver who stops to deliver or pick up a load, take a rest break or buy fuel in a quarantined area.
"Several of the largest private fleets and commercial trucking companies asked us to develop a driver course in response to new requirements for training, certification and recordkeeping related to the Spotted Lanternfly problem," said Roy Broomfield, training development specialist at ITI. "We responded with the industry's first training for commercial drivers and the ability to use our Sentix platform to meet recordkeeping requirements.
"Trucking plays a key role in helping to control this growing infestation by training drivers to identify the bugs and larvae and keep them from moving on vehicles or in products," Broomfield added. "Of particular concern this season are Christmas trees that are transported across the country. With this new course, our customers are able to rely on us to use our subject matter and training expertise to meet their needs."
The Spotted Lanternfly is an Asian moth that was initially found in Berks County, Pennsylvania and has since spread to other states. Several counties in New Jersey, Pennsylvania and Virginia are now under quarantine. Pennsylvania and New Jersey have begun requiring mandatory driver training, and inspection, certification and control measures. In addition, two-year recordkeeping requirements are also in place.
The Spotted Lanternfly course for drivers is available per lesson for Sentix or Legacy PT users and ITI resellers, or per seat for an entire fleet. ITI is known for its highly effective mastery learning training strategy, an instructional method by which the student must 'master' each subject before moving to the next subject.
With ITI, fleets have the flexibility to use off-the-shelf PRO-TREAD lessons, engage ITI's PRO-SERVICE team to develop customized content, assign, schedule and track training via the Sentix LMS, and use ITI's secure hosting services for their own content.
For more information on the Regulations and Permitting for the Spotted Lanternfly Quarantine, contact ShannonPowers, press secretary for Pennsylvania Department of Agricultureat shpowers(at)pa.govor by phone at 717-783-2628.
For more information on the Spotted Lanternfly, contact Heather Leach, extension associate in entomology in Penn State's College of Agricultural Sciences who is dedicated to the Spotted Lanternfly issue, helping to coordinate with researchers, county-based extension educators, government agencies and others at hll50(at)psu.edu or by phone at 814-863-2872.
About Instructional Technologies, Inc.
Founded in 1995 and based in Vancouver, Washington, Instructional Technologies Inc. (ITI) is the leading provider of online training to the transportation industry. The company's commitment to training is based on the principles of mastery learning, accurate and automated record keeping, and up-to-date information that ensure personnel have been effectively trained and detailed records kept. ITI makes fleets and warehouses safer and more profitable through its PRO-TREAD library of more than 100 standard training courses that blend engaging content with real-world, how-to scenarios, and its Sentix platform that automates the day-to-day administration of an online training program in addition to integrating with transportation management and back office systems. Transportation and logistics companies choose ITI because of its automated learning management system, custom training capabilities, flexible lesson methodologies, and engaging 3D animations that improve retention, ensure subject matter mastery and lower the total cost of training. For more information, please visit http://www.instructiontech.net.