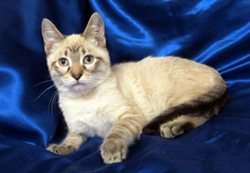 St. Louis, Missouri (PRWEB) November 30, 2015
Stray Haven Rescue, a St. Louis pet rescue adoption organization, has hundreds of cats and kittens available for adoption this holiday season. These feline friends would make the perfect addition to the right home, providing companionship for years. All cats available for adoption from Stray Haven Rescue have had a thorough examination from a vet, including FIV and feline leukemia testing, and rabies vaccination and feline distemper shots. Stray Haven Rescue cats have also been spayed or neutered and microchipped.
As part of its mission to promote the health, well-being and welfare of all cats – domestic, stray, abandoned and feral, Stray Haven Rescue also offers foster and volunteer opportunities as well as holding and attending numerous special events, animal charity fundraisers and pet expos in and around the metropolitan St. Louis area. Another Stray Haven Rescue program is Senior Cats for Senior Laps, which places senior cats 8 years and older into loving foster homes with senior people 65 and older. Not only do both the cat and the person benefit from loving companionship, studies have shown that a feline companion can lower the risk of cardiovascular disease and heart attack, improve immune function, reduce blood pressure, lower triglycerides and cholesterol, reduce the risk of stroke and provide a number of other health benefits, all resulting in a longer, healthier and happier life.
Persons interested in adopting a cat, making a donation or volunteering are encouraged to visit http://strayhavenrescue.org/ to learn more and view cats currently available for adoption.
About Stray Haven Rescue
Stray Haven Rescue is a 501(c)(3) non-profit animal rescue organization that was founded in St. Louis, Missouri. Stray Haven is dedicated to promoting the health, well-being, and welfare of all cats: domestic, stray, abandoned, and feral. We find loving homes for these animals once they've received veterinary care and are deemed healthy and fit for adoption. The goal of Stray Haven Rescue is to educate the public about the companion animal overpopulation issue and help to provide solutions to end the killing of adoptable animals. In order to accomplish this, Stray Haven rescues cats from high-kill animal controls, the streets, and abusive situations and spays/neuters feral cats to prevent the births of hundreds of homeless kittens. Stray Haven Rescue then fosters and finds homes for rescued cats through adoption events or via the internet. Potential adoption homes are screened to ensure that they will provide a stable, loving, and permanent home for rescued animals and Stray Haven provides counseling to prospective adopters regarding pet behavior and care, training, diet, and animal welfare. More information about Stray Haven Rescue can be found at http://strayhavenrescue.org/.