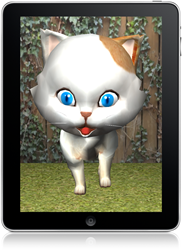 We are excited to announce the availability of the GeriJoy Companion as an adorable kitten, by popular request.
Cambridge, MA (PRWEB) July 31, 2013
GeriJoy announced that their virtual senior companion now comes in two forms: a talking dog and a talking cat. According to the Humane Society of the US, 39% of American households own at least one cat, and there are over 86 million cats owned in the US compared to 78 million dogs.
GeriJoy CEO Victor Wang commented, "We are excited to announce the availability of the GeriJoy Companion as an adorable kitten, by popular request. This additional choice will help foster stronger connections with many seniors and help to expand our market reach to include the millions of cat-lovers out there."
The GeriJoy Companion is able to provide the benefits of pet therapy without the physical drawbacks of live animals. The new cat companion will share all of the original dog companion's benefits and capabilities, including 24-hour supervision from trained care staff, intelligent conversation, and compassionate interactions. GeriJoy's virtual companions for the elderly have been observed to benefit mental and emotional health, even mitigating depression and Alzheimer's symptoms. Family members are able to see how their loved ones are doing by reading the GeriJoy Companion's diary, which GeriJoy's trained support staff post online to the secure Family Portal.
New GeriJoy customers who sign up at http://www.GeriJoy.com/subscribe can choose from a service-only subscription plan, or one that also includes the tablet hardware on which the GeriJoy Companion lives. Either way, customers may choose between the dog or the cat, and new customers who choose the cat prior to August 8, 2013 will receive a promotional reimbursement of their first month's subscription dues, effectively extending the ordinary free trial period.
About GeriJoy
GeriJoy Inc. was founded by MIT researchers Victor Wang and Shuo Deng to improve quality of life for seniors and their families through friendly technology. The GeriJoy Companion, their flagship service, is a virtual pet that is backed by GeriJoy's worldwide team of 24/7 care staff. The staff guides the pet's speech to provide elders with the experience of having an always-available conversational companion that can talk with them about family photos and other information from the Internet. Essentially, the GeriJoy Companion is a talking dog or cat that serves as a helpful family member, not only improving mental health for elders but also providing peace of mind for caregivers. GeriJoy has been recognized by organizations like AARP, TEDMED, and the US Senate as a leading innovator in senior care. The company is based in Cambridge, MA, and is backed by investors such as Blueprint Health and Esther Dyson. To find out more, or to order GeriJoy's service for your own family, please visit http://www.GeriJoy.com or email info(at)GeriJoy(dot)com.