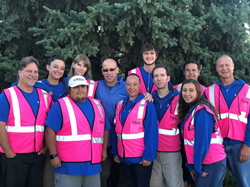 NAPERVILLE, Ill. (PRWEB) November 10, 2019
Pet Butler does its part to support all woman everywhere by helping to create awareness and education in their effort to put an end to breast cancer. During the month of October Pet Butler switched out its regular neon yellow vests to pink ones in honor of "breast cancer awareness" month.
Each team member in their Chicago, IL location wore a pink vest and posted pictures with a host of furry friends. For each picture that was posted using #PetButlerGoesPink, Pet Butler donated $10 to help fight breast cancer. "Too many moms and daughters are affected, and we are doing our part to create awareness. In October, our local Naperville/Plainfield Pet Butler scoopers wore a pink vest to support breast cancer awareness," said James Young, President of Pet Butler.
October is breast cancer awareness month, a worldwide annual campaign involving thousands of organizations to highlight the importance of education and research. Breast cancer is the most common cancer among women. In 2019, nearly 300,000 women will be diagnosed with breast cancer.
Pet Butler is proud to make a $500 donation to the Susan G. Komen Foundation. "We hope that our donation will help find a cure to end breast cancer once and for all," said James Young, President of Pet Butler.
For breast health and breast cancer information please call the Breast Care Helpline: 1-877-GO KOMAN or email them at helpline@koman.org.
About Pet Butler
Pet Butler, which proudly bills itself as "#1 in the #2 business," charges a small per-visit fee for its professional technicians to collect dog waste, carry it away, and properly dispose of it. Pet Butler provides professional pet waste clean-up, removal services, and supplies for individual yards, parks, and multi-family communities. The company's mission is to give pet owners more quality time with their pets and families. Together with its nationwide network of franchise owners, the company has been cleaning up pet waste for over 30 years. To learn more, visit the Pet Butler website at http://www.petbutler.com or call 800-Pet-Butler.