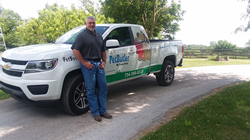 PLAINFIELD, Ill. (PRWEB) July 17, 2020
Life has unquestionably been turned upside down for each and every one of us during the coronavirus pandemic. That's especially true in the business sector, and as a new small-business owner, Mark Schlicher believes that as our lives have changed, so have our needs. Schlicher is a new franchise owner with Pet Butler, which allows pet lovers to turn their passion into a business by providing pet waste removal and other pet-related services to homes and multi-family communities. Launched on June 15, this Pet Butler location serves customers throughout greater Ann Arbor and Saline.
The 52-year-old Schlicher, a Saline resident, believes he sees a strong growth opportunity for residential service industries. "I recognized that our economy has been changing to a service-based economy," Schlicher said. "And I truly believe that the residential services industry will continue to grow, especially coming out of the coronavirus pandemic. There's a whole world of services that go on each day around residential neighborhoods that most of us in business never see."
Schlicher will continue his 30-year career in the tech industry, where for the last 13 years he has been running a value-added reseller business, selling network technology. But even though it's on the other end of the spectrum from his day job, Schlicher recognized a strong business opportunity when he saw it. He was attracted by Pet Butler's franchise business model that caters to the roughly 85 million U.S. families, or 67 percent of households, who own a pet. "I was looking for an entry point into the residential services sector, but I wanted something new and different and something we could have a little fun with that would be embraced by the community and also offer growth potential," Schlicher said. "Pet Butler checked those boxes for me."
In Pet Butler, Schlicher found a franchise brand with a modernized business model that offers large, protected territories that foster scalable growth and strong recurring revenue, which has helped make it No 1 in the "No. 2" business for thousands of clients across North America. "I've owned dogs, cats and horses throughout my life. I even showed lambs at the country fair as a young 4-H member," Schlicher said. "I do love animals and finding a business that promotes other people's love of their own animals was certainly a win for me."
###
About Pet Butler
Pet Butler Franchise was acquired in 2017 by Spring-Green Enterprises, the parent company of +43 years old Spring-Green Lawn Care and SGE Marketing Services. They currently have 30 franchisees located in 26 states with long term plans to open 60 more within the next 5 years. Pet Butler provides an opportunity for pet lovers to turn their passion for pets into a business. To learn more about how Pet Butler serves pets and their people, visit http://www.petbutler.com and connect on Facebook and LinkedIn. To inquire about a franchise call 844-777-8608 or go to http://www.petbutlerfranchise.com.