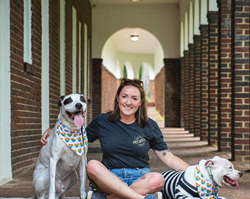 I believe in Pet Wants' products — it's fresh, we've never had a recall and it changed the lives of both of my pets — and I can't wait to share them with other pets in my community. - Sharon Hodge
BROOMFIELD, Colo. (PRWEB) September 22, 2021
Sharon Hodge knows what it's like to have pets with complicated health challenges. Both of her dogs, Petey and Olive, are cancer survivors and Petey tried 12 kinds of pet food he couldn't stomach before Hodge found Pet Wants. Those journeys — and the positive impact of Pet Wants food has had on her dogs — inspired Hodge to open her own Pet Wants in Broomfield, Colorado.
Pet Wants Broomfield is a mobile business that offers free, personal delivery throughout the Broomfield area. Pet Wants' specially-crafted, private-label pet food formulas are made in small batches with fresh, natural ingredients enhanced with vitamins and minerals for a complete and balanced diet in every bowl, all made in the USA. Pet Wants Broomfield has multiple blends of dog and cat food formulas as well as healing salve, calming balm, anti-itch spray, paw wax and more.
Pet Wants has a money-back guarantee on the freshness and quality of the food, and the company only sources the best salmon, chicken, lamb, brown rice and other ingredients available. There's no sugar added, no fillers and no animal by-products and Pet Wants never uses corn, wheat, soy or dyes, which makes the food great for animals with allergies.
"I'd never ask someone to spend money on something I don't completely trust myself. I believe in Pet Wants' products — it's fresh, we've never had a recall and it changed the lives of both of my pets — and I can't wait to share them with other pets in my community. I want to be a resource for other pet parents who are looking for the best nutritional options for their fur babies," Hodge said.
In addition to being a customer, she worked at Pet Wants Nashville in the evenings and on the weekends after working all day as an educator. Her experience with the products, the customers and the owners inspired her to open her own Pet Wants after she moved to Broomfield.
"Even after the stress of teaching all day, I was always excited to go into Pet Wants to work. As I started thinking about my next steps I realized, if I could be that excited to go to work a second job after two years, maybe Pet Wants was something I could do permanently," Hodge said. "I couldn't be more excited about opening my own franchise. I'm extremely passionate about Pet Wants products, especially the food and treats, and I'm so excited to be able to share that passion with the Broomfield community."
To learn more about Pet Wants Broomfield, call 720-392-3691, email SHodge@PetWants.com or visit http://www.petwants.com/broomfield.