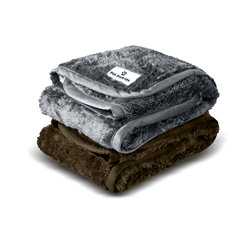 ANKENY, Iowa (PRWEB) February 11, 2021
Pet Parents® has disrupted the pet industry again by creating a stylish waterproof pet blanket for pet owners everywhere. Pawtect™ Blankets perfectly blend comfort for pets and style while protecting the homes of pet parents. This blanket solves the issue pet parents used to be faced with: choosing between stylish blankets or waterproof pet blankets that do not blend into their home. Available on petparentsbrand.com on February 9th, 2021, pet parents are ready to protect everywhere their pet lays with their new waterproof blanket.
Pawtect™ Blankets are a waterproof pet blanket created with multiple features to ensure the pet parent is at ease when their pet is sleeping. This waterproof blanket has:

WickQuick®, a technology that wicks away moisture from the surface and draws it into the blanket
EdgePawtector™, which prevents spills form escaping over the edge by pushing moisture back into the middle of the blanket
Sherpup®, a proprietary multi-layer material that is not only the coziest fabric around, but also creates an impermeable barrier between both exterior fabrics so that no moisture can seep through either side of the blanket
LockJaw™ to dissuade chewers and prevent fraying
Available in three sizes and two colors on https://petparentsbrand.com/, the amount of solutions this waterproof blanket can solve are endless. Pawtect™ Blankets are stylish and blend into the modern home in the most popular blanket colors, slate and chocolate.
Pet Parents® began its journey in the beginning of 2016 & continues to grow in size. They continue to push their way to the top; being one of the fastest growing pet product companies in the industry. Their brands & product lines are at the crossing point of two macro pet industry trends: the humanization of pets with a focus on healthcare. Pet Parents® core products are their washable dog diapers, belly bands and pee pads and are some best options in the market. Learn more about Pet Parents® at https://petparentsbrand.com/.