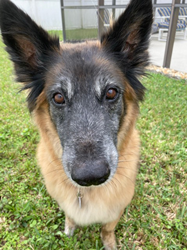 "Moving a pet overseas really is pet immigration." –Cory Robinette, Air Animal COO.
TAMPA, Fla. (PRWEB) May 25, 2021
Cory Robinette, Air Animal COO, often speaks with relocation moving company executives and Fortune 500 human resources leaders. "Recently, an executive summed up our conversation about moving pets overseas. She said, 'Oh, you're talking about pet immigration and people immigration.' I replied, 'Yes! Exactly."
Moving pets overseas really is pet immigration, so some things are always true.
1. The rules in every destination country are usually different.
2. Regulations in those countries change all the time—sometimes with little warning.
3. Hiring Air Animal can save you time and frustration because Air Animal keeps track of truisms 1 and 2.
Airline capacity to relocate immigrating pets has plummeted over the last 13 months for two reasons.
1. Airline flights are not fully booked with passengers or cargo. So, they cancel flights—often with little notice to anyone.
2. Cargo space used for pets is now booked to ship COVID vaccines around the world.
Air Animal's experienced pet movers work closely with clients to move immigrating pets while navigating every air capacity challenge imaginable.
The Biggest Challenges for Pet Immigration Right Now
Many countries requiring quarantine are booked months in advance. Why? Because of layoffs and COVID illness among the staff. And, because pet owners returning to their home countries bring multiple pets. Also, some countries close pet entry on weekends and national holidays.
Air Animal's 5-Step Timeline
Submit an online Let's Talk pet move request:

6 TO 12 MONTHS BEFORE immigrating with your pet to the Pacific rim countries - Australia, New Zealand, Singapore, Malaysia, Indonesia, the Fiji Islands.
4 MONTHS AHEAD when moving to Guam.
3 MONTHS AHEAD when moving to Europe, the Middle East or Africa.
2 MONTHS AHEAD to move to Central America, South America, Hawaii or the Caribbean.
3 WEEKS AHEAD when moving your pet across the USA, to Canada, Puerto Rico or the U.S. Virgin Islands.
Air Animal's experienced pet move managers skillfully use their knowledge matching dates that clients want with open spots whenever possible. Their trusted overseas service partners update Air Animal about quarantine-space availability.
Air Animal is creative and really good at relocating family pets. "We are not magicians. We don't fly the planes. We don't control the weather. Neither do we make the rules or control quarantine space," said Cory Robinette, Air Animal COO.
"Air Animal is one of the most-admired pet movers in the world. We've helped more than 55,000 families relocate more than 110,000 family pets during the past 44 years. I can assure you that the global pet relocation marketplace ALWAYS finds a way. The demand to immigrate with pets will drive the capacity and capacity will return over time," she predicted.
Pet Moving Made Easy®. Air Animal delivers on that promise every day. Always have. Always will.
About Air Animal
Air Animal has helped more than 55,000 families move their 110,000 furry, feathered and scaly pets around the globe since 1977. They welcome pet move authorizations and referrals from major corporations, relocation management agencies, household goods movers, veterinarians, families, U.S. military and government transferees. Get the best in animal care and transportation. Air Animal is an appointed and endorsed IATA air cargo sales agency working with all airlines that move animals. They are an Indirect Air Carrier cleared for tendering live animals to airlines by the U.S. Transportation Security Administration. See airanimal.com to learn more about Pet Moving Made Easy®.