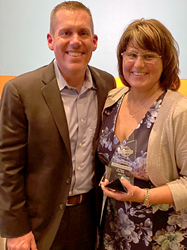 The way we slow cook our food – locking in the nutrients – and selling it fresh is unique and it's huge for pets. You don't realize how much the production of pet food affects your pet until you change to Pet Wants and truly see the difference in your dog or cat. - Laurie Sanfillipo
CINCINNATI (PRWEB) March 05, 2020
Coming off their Franchisee of the Year Award last year, Laurie and Joe Sanfillipo III, the owners of Pet Wants Cincy West, have been recognized again – this time with the Pet Wants President's Award of Excellence. The award, which was created to recognize franchise owners who demonstrate all-around excellence in operating their Pet Wants business, was presented at the company's national conference on February 4, 2020.
"I'm extremely proud to recognize Joe and Laurie with this award. Joe and Laurie were recognized as Franchisee of the Year last year and they carried that honor in a big way in 2019. They are always on the lookout to help other franchisees – Laurie is on our advisory board – and they offer themselves and their store as a system validation for prospective franchise candidates. The way they operate their store and their commitment to outstanding customer service has led to consistent sales growth every month with no sign of slowing down. Congratulations to Joe and Laurie for this outstanding accomplishment!" Pet Wants President Scott Hoots said.
Pet Wants' multiple blends of specially-crafted pet food formulas are made in small batches with fresh, natural ingredients enhanced with vitamins and minerals for a complete and balanced diet in every bowl. Pet Wants Cincy West sells more than just food. There is a large variety of healthy treats, chews and toys. It's a one stop shop for all things healthy and safe for your pet. Pet Wants Cincy West's retail store is located at 3797 Shady Lane in North Bend. Pet Wants Cincy West also continues to offer free delivery to Delhi, Green Township, Western Hills, Bridgetown, Saylor Park, Miami Township, Harrison, Lawrenceburg, Cleves, Colerain and Cheviot as well as the surrounding areas.
"Winning this award was a complete shock. After being recognized as the Franchisee of the Year in 2019, we really didn't expect to be recognized again for anything. I think this year I feel this award is just as much for our staff as it is for us. We have a great group of employees that really work as a team – they all get along and hang out together, they created a soccer team together and they knock customer service out of the park. We really are a family. To have a great team and great customers that support us and them is a win-win. We couldn't do the things we do without all of them," Laurie said.
Pet Wants only sources the best salmon, chicken, lamb, brown rice and other ingredients available. There's no sugar added, no fillers and no animal by-products and Pet Wants never uses corn, wheat, soy or dyes, which makes the food great for animals with allergies. Pet Wants has nearly 100 locally-owned locations nationwide.
"Pet Wants, as a company overall, does things differently than other pet food manufacturers. The way we slow cook our food – locking in the nutrients – and selling it fresh is unique and it's huge for pets. You don't realize how much the production of pet food affects your pet until you change to Pet Wants and truly see the difference in your dog or cat. Whereas most foods at other pet stores are carb filled and often more than six months old, Pet Wants formulas are low-carb, high-protein foods that are produced every six weeks. No other company touches that concept. Combining these qualities with great customer service has been a major pillar to our success," Sanfillipo said.
To order Pet Wants food for your favorite companion or to learn about the company, stop by the store at 3797 Shady Lane, call (513)498-2883, email LSanfillipo@PetWants.com or visit http://www.petwantscincywest.com.