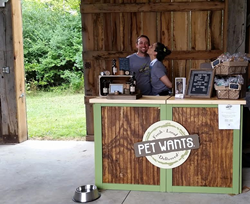 Making food this fresh and digestible is truly unique - something that makes us stand out in a crowded pet food industry. We want to be known as our community's singular destination for nutritious food with products that really help to restore and maintain pets' health and well-being. - Chris Miller
HAMILTON, Ohio (PRWEB) April 08, 2020
Chris Miller and Rachel Steinman, the local owners of Pet Wants Hamilton have been recognized with the Pet Wants 2020 Michele Hobbs Award of Excellence.
"We created this award in honor of our founders, Michele Hobbs and Amanda Broughton, and it signifies passion for the Pet Wants mission of enhancing the lives of pet parents through a commitment to the lives of their four-legged loved ones. There is nobody in our system that symbolizes that passion more than Chris and Rachel. Launching their business in late 2016, Chris and Rachel have faced every obstacle and have knocked them all aside with a commitment to themselves and the brand while also helping other franchisees. Our entire corporate team is excited to have presented this award to Chris and Rachel and we are excited to see what 2020 has in store for them," Pet Wants President Scott Hoots said.
Pet Wants Hamilton has a retail store located at 139 Main Street in Hamilton's Historic Business District and offers free delivery to most of Butler County, including Hamilton, Liberty Township, Middletown, Trenton, New Miami, Ross Township, Millville and the surrounding areas.
"We are humbled to be recognized with the Michele Hobbs Award of Excellence. We are so incredibly grateful to our Hamilton community and we have them to thank for this prestigious honor. This is really for them for it is a reflection of their love and support for us. They have truly embraced us, and many of the small businesses that are here, as part of their family. The people of Hamilton, and its '17 Strong' neighborhoods are so very special. How wonderful that, together, we all are a part of the renaissance that is happening in this great city," Rachel said.
Pet Wants' multiple blends of specially-crafted pet food formulas are made in small batches with fresh, natural ingredients enhanced with vitamins and minerals for a complete and balanced diet in every bowl. Pet Wants Hamilton also sells healing salve, calming balm, anti-itch spray, paw wax, CBD products, treats and more.
"We saw firsthand how Pet Wants food helped our pets and knew we wanted to share our 'good news' story with our friends and neighbors. We absolutely believe in the product because we have seen time after time the health benefits associated with fresh, quality ingredients and the slow-cooked, small-batch approach. Making food this fresh and digestible is truly unique - something that makes us stand out in a crowded pet food industry. We want to be known as our community's singular destination for nutritious food with products that really help to restore and maintain pets' health and well-being," Chris said.
Pet Wants has a 100-percent, money-back guarantee on the freshness and quality of the food and the company only sources the best salmon, chicken, lamb, brown rice and other ingredients available. There's no sugar added, no fillers and no animal by-products and Pet Wants never uses corn, wheat, soy or dyes, which makes the food great for animals with allergies. Pet Wants has nearly 100 locally-owned locations nationwide.
"First and foremost, we believe our success is tied to our faith. Our desire to be part of something greater led us to this business opportunity. We have been blessed with so much and we earnestly endeavor to steward the gifts we have received. This dovetails beautifully in our desire to serve. We are out in the community getting to know our family of customers and learning about the needs of their beloved pets. These personal experiences are what set us apart. It allows us to become an integral part of our community. It is definitely a lot of hard work with the most rewarding moments being revealed in our customers' smiles. They share their joyful stories about how their pets' health has improved or has been restored," Rachel said.
"We love helping pet parents find solutions for the concerns they have about their sweet pups and kitties. They truly are more than just pets. Being trusted in this great capacity is never lost on us - it is a responsibility we take very seriously. We are grateful and humbled," she added.
To learn more about the company and the owners, call (513) 502-0407, email RSteinman@PetWants.com or visit http://www.PetWantsHamilton.com.