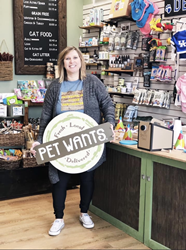 Pet Wants is a great option for any pet, but especially those with allergies, health issues, skin problems or other challenges. I love being able to help fur babies feel better and live longer. - Melissa Mautz
LEXINGTON, Ky. (PRWEB) November 16, 2020
Lexington-area Pet Wants owner Melissa Mautz is pleased to announce that she's expanding her company's delivery footprint to include Frankfort, Georgetown, Winchester, Versailles, Harrodsburg, Paris, Mt. Sterling and the surrounding areas. Pet Wants Lexington has a store in Chevy Chase at 321 South Ashland Avenue and previously only delivered to Lexington and Nicholasville.
"With COVID-19 and the increased interest in Pet Wants' products, we saw the demand for our products stretch well beyond our previous service areas. We are looking forward to introducing new people – and pets – to Pet Wants and helping them get our fresh, nutritious products," Mautz said.
Pet Wants' specially-crafted, private-label pet food formulas are made in small batches with fresh, natural ingredients enhanced with vitamins and minerals for a complete and balanced diet in every bowl, all made in the USA. Pet Wants Lexington has multiple blends of dog and cat food formulas as well as healing salve, calming balm, anti-itch spray, paw wax and more.
Pet Wants has a money-back guarantee on the freshness and quality of the food and the company only sources the best salmon, chicken, lamb, brown rice and other ingredients available. There's no sugar added, no fillers and no animal by-products and Pet Wants never uses corn, wheat, soy or dyes, which makes the food great for animals with allergies.
"If you take a step back and think about humans for a minute, it's easy to see that we generally feel better and live healthier lives when we're eating fresh, healthy food. The same is true for our pets. Pet Wants is a great option for any pet, but especially those with allergies, health issues, skin problems or other challenges. I love being able to help fur babies feel better and live longer," Mautz said.
Mautz, who was the first Pet Wants owner outside of the Greater Cincinnati area, launched her business in 2014 after having a great Pet Wants experience with her own dog, Sampson. In 2019, she was recognized with the company's President's Award of Excellence. The award recognized Mautz's commitment to growing her business while also supporting the Pet Wants brand and their fellow business owners.
"I saw an amazing transformation in Sampson after I started feeding him Pet Wants and I recognized that there was an opportunity to serve people in Lexington by bringing Pet Wants to this community. Since opening this business, I've had the pleasure of meeting many great families and their pets and helping those pets live longer, healthier lives by providing them with high-quality, nutritious food," Mautz said.
To learn more about Pet Wants Lexington, call 859-948-3333, email MMautz@PetWants.com or visit http://www.PetWantsLex.com.