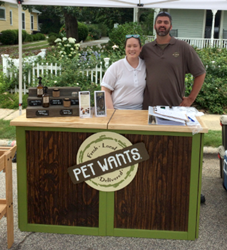 Since launching our mobile business last summer, we've been able to create some great connections in our local community. There are many pets in our community who have made the switch to Pet Wants and their families are seeing the benefits. - Ron Whidby
RALEIGH, N.C. (PRWEB) March 29, 2019
After less than a year in operation as a mobile business, Pet Wants North Raleigh is opening a retail store at 6108 Falls of Neuse Road. The new store will be open for business starting on April 2.
Pet Wants' specially-crafted pet food formulas are made in small batches with fresh, high-quality ingredients enhanced with vitamins and minerals for a complete and balanced diet in every bowl. Pet Wants North Raleigh has multiple blends of dog and cat food formulas. Locally-made products for calming and healing and wholesome treats are also available. The Pet Wants team is also available to discuss pet owners' individual pet needs and deliver personalized nutritional solutions. Pet Wants North Raleigh's store will be open Monday through Friday from 10am to 6pm, Saturday from 10am to 5pm, and Sunday from 12pm to 5pm. Pet Wants North Raleigh will continue to offer convenient, free, personal delivery to the entire North Raleigh area.
"We're really looking forward to bringing pets and their parents a great, pet-friendly space in our local community. We'll be showcasing local-made dog and cat products and we'll be able to partner with other local pet vendors, like dog trainers or groomers. Having a retail store will also allow us to have even more products available for cats and dogs than we can offer on our website or at our events. We wanted to open a brick and mortar store since the beginning and we're really excited about our grand opening," part-owner Rachel Whidby said.
Pet Wants North Raleigh is locally owned and operated by Ron and Rachel Whidby, along with their daughter and son-in-law, Michelle and Joshua Hurley. The Whidbys and the Hurleys are experienced business owners and they each bring different strengths to the team – from back office and operational experience to marketing and sales. They were originally drawn to Pet Wants when Rachel started looking for a flexible opportunity that would allow them to work with animals.
"People are increasingly more aware of what they are putting into their own bodies and the importance of nutrition for humans, so we thought the timing was right to start talking about nutrition when it comes to our pets. Since launching our mobile business last summer, we've been able to create some great connections in our local community. There are many pets in our community who have made the switch to Pet Wants and their families are seeing the benefits! We've also been able to make food donations to local rescues and spend our weekends at local farmers markets or local events. We're looking forward to getting even more involved in the community in the future," Ron said.
Pet Wants has a 100-percent, money-back guarantee on the freshness and quality of the food and the company only sources the best salmon, chicken, lamb, brown rice and other ingredients available. There's no sugar added, no fillers and no animal by-products and Pet Wants never uses corn, wheat, soy or dyes, which makes the food great for animals with allergies.
"The world of pet food can be complicated so, for us, I think the most exciting part about this business is having the opportunity to talk to people in our community about animal nutrition and educate them about the ingredients in pet food. We want to make sure people have all the information so they can make the right decision for their own family," Michelle said.
Ron and Rachel are long-time Raleigh residents and Michelle and Joshua were both born and raised in the Raleigh area. Ron and Rachel have a 7-year-old coonhound named Summer and a grand-dog named Bell, who is a 9-year-old lab/hound mix. Michelle and Joshua have a miniature dachshund named Bandit. All of their dogs are rescues.
To learn more about Pet Wants North Raleigh or to place a delivery order, call (919)908-7584 or visit https://PetWantsNorthRaleigh.com.