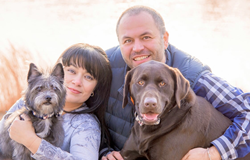 Our food is like no other in the marketplace today – it is made fresh and slow cooked in small batches with only the very best ingredients. We have seen amazing results in the dogs and cats that have made the switch to Pet Wants... - Gustavo Pinha
WESTON, Fla. (PRWEB) February 25, 2020
Pet Wants Weston has been recognized with the Pet Wants Franchise's Rookie of the Year Award. With the dozens of locally-owned and operated Pet Wants franchises that opened in 2019, this was an extremely competitive year for this award, which was presented at the national Pet Wants conference on February 4, 2020.
"We are proud to recognize Pet Wants Weston as our Rookie Franchisee of the Year because of their steadfast commitment to their team, their community and the Pet Wants brand. Gustavo Pinha and Ileana Ramirez brought this franchise to life and the entire team is committed to the business. They truly approach every day with a passion for pets that is unmatched," Pet Wants President Scott Hoots said.
Pet Wants' multiple blends of specially-crafted pet food formulas are made in small batches with fresh, natural ingredients enhanced with vitamins and minerals for a complete and balanced diet in every bowl. Pet Wants Weston also sells healing salve, calming balm, anti-itch spray, paw wax, CBD products, treats and more. Pet Wants Weston has a retail store located at 1720 Main Street in at the Weston Town Center Plaza (open Monday through Saturday from 10am to 7pm and Sunday from 12pm to 5pm) and offers curbside pickup as well as free delivery to Weston, Coral Springs, Pembroke Pines, Miramar, Cooper City, Davie, Sunrise, Plantation, Southwest Ranch and the surrounding areas.
"Being recognized as the Rookie Franchise of the Year was an honor because we know there are a lot of other amazing franchises out there and we have tons of respect for everyone that devotes their lives to helping our fur babies achieve a healthy life through great nutrition," Pinha said. "Of course we are nothing without our amazing customers, who have become like family to us. We feel extremely blessed to have met so many amazing people, dogs, cats and even an alpaca. We do not do any major form of advertisement, so our business growth has been entirely through word of mouth and recommendations. We thank our community from the bottom of our hearts."
Pet Wants has a 100-percent, money-back guarantee on the freshness and quality of the food and the company only sources the best salmon, chicken, lamb, brown rice and other ingredients available. There's no sugar added, no fillers and no animal by-products and Pet Wants never uses corn, wheat, soy or dyes, which makes the food great for animals with allergies.
"Pet Wants is unique because we really care about your fur babies and we will go the extra mile to help any dog or cat in need. Our food is like no other in the marketplace today – it is made fresh and slow cooked in small batches with only the very best ingredients. We have seen amazing results in the dogs and cats that have made the switch to Pet Wants and we're excited to continue to help improve the lives of animals in our community," Pinha said.
In addition to the Pet Wants products, Pet Wants Weston offers local, handmade products like collars, blankets, shampoos and bow-ties, and they host events like puppy training classes, adoption events, no-anesthesia teeth cleaning, fundraisers, photo shoot events and more. In 2019 the Pet Wants Weston team increased their commitment to the system, entering into a five location development agreement that will bring Pet Wants to all of Broward County. Hoots said he's looking forward to seeing more fantastic results from Pet Wants Team Weston in 2020 and beyond.
To learn more about Pet Wants Weston, call 954-688-4949, email GPinha@PetWants.com or visit http://www.PetWants.com/Weston.