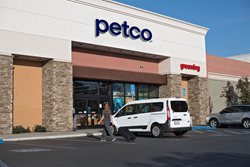 "We're making it easy for pet parents to care for the health and wellness of their pets through a seamless omnichannel Petco experience that tailors to their needs and meets them where they are thanks to JumpMind." - John Zavada, Petco Chief Information and Administrative Officer
Columbus, Ohio (PRWEB) October 19, 2021
"We're making it easy for pet parents to care for the health and wellness of their pets through a seamless omnichannel Petco experience that tailors to their needs and meets them where they are thanks to JumpMind."

John Zavada, Petco Chief Information and Administrative Officer
Business Challenge
After 20 years of leveraging a legacy point of sale (POS) platform that was largely customized and maintained by Petco, the health and wellness company for pets was ready for a change.
Looking for the innovation, optimization and flexibility that would allow Petco to stay at the forefront of retail landscape shifts, as well as offer a best-in-class, seamless omni-channel experience, Petco tried a revolutionary rip-and-replace project with a large, well-known POS vendor. However, the project faltered with cost overruns and technical difficulties. After quickly assessing the situation, business and IT leadership decided upon an evolutionary approach versus a revolutionary one. They needed the ability to evolve to and roll out the new capabilities that mattered most, while driving toward a comprehensive and cohesive end result.
The Solution
Petco partnered with JumpMind, a products and services company that shared Petco's vision of an evolutionary approach leading to a comprehensive and cohesive solution. JumpMind's in-depth knowledge and experience with integration and synchronization toolsets, coupled with the company's architectural approach to commerce and POS through microservices and headless commerce was a good fit – and a great partnership was born.
To begin the evolutionary process, Petco chose the highest ROI opportunity within their Petco pet care centers. A returns management project was created to completely revamp the returns processes, providing seamless omni-channel returns, broad fraud detection and prevention capabilities, as well as loyalty incentives with full transaction visibility and paperless receipts.
The Result
The Petco and JumpMind teams first implemented JumpMind's Metl and SymmetricDS integration and synchronization toolsets.
Without real-time data integration between store systems, Petco had been manually coding integrations over the years in various languages and technologies. Now, with an efficient integration infrastructure in place, the team implemented JumpMind Commerce's Returns Management module to complement the existing POS platform, providing out-of-the-box, full-featured returns management and fraud capabilities. Delivered to the lab within three months, and rolled out to the entire chain shortly thereafter, the returns management capabilities saved Petco millions of dollars, and earned rave reviews from customers and employees alike.
With the success of the Returns Management rollout, Petco sunset the entire POS platform, moving forward with JumpMind Commerce to take advantage of the out-of-the-box capabilities provided by the platform, and the software's simple and efficient extension mechanisms.
Petco embarked upon the first phase of the full rollout – including POS, private label credit, eReceipt, subscription services and more – in early 2021 and successfully completed it across all U.S. Petco pet care centers within months.
"As we continue innovating and optimizing Petco's systems to deliver a positive experience to customers and employees alike, we're looking forward to working alongside JumpMind, whose strong partnership has been critical to our success." - William Choi, Petco Director of Development and Application Support
About JumpMind Commerce
JumpMind Commerce is a completely new look at POS and the entire backbone of the retail enterprise. Full-featured and technically robust, the platform allows for evolution OR revolution. With a web UI and microservice architecture, deploy it thick, thin or anywhere in-between.
Follow JumpMind on Social Media
LinkedIn - https://www.linkedin.com/company/jumpmind-inc
YouTube - https://www.youtube.com/user/jumpmindinc
Twitter - https://twitter.com/JumpMind
Facebook - https://www.facebook.com/jumpmind