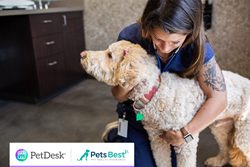 Animals covered by pet insurance visit their vet more often, extending the length and quality of their lives. And millions of PetDesk App users are looking for a trusted guide to aid them in their search for the right policy for their furry family members.
SAN DIEGO (PRWEB) February 11, 2021
PetDesk today announced the Pet Insurance Guide, a tool for pet parents to quickly request and purchase pet insurance policies from inside the PetDesk app, is now active for all PetDesk App users**. The Pet Insurance Guide is the latest addition to the Lifetime Action Plan – PetDesk's suite of pet parent tools assisting pet parents, and veterinary clinics, to extend the lives of pets.
The Pet Health Insurance Guide offers a new way for pet owners to easily find and compare pet insurance policies. The new tool will help achieve PetDesk's mission to engage pet parents in their pets' health through a deeper relationship with their pet care providers.
"Our mission is to extend the lives of pets by 10M years and have the data to prove it" says Taylor Cavanah, CEO of PetDesk, "and animals that are covered by pet insurance visit their vet more often, extending the length and quality of their lives. We aim to accelerate the adoption of pet insurance and know that the millions of PetDesk App users are looking for a trusted guide to aid them in their search for a policy specific to their furry family member."
A survey of pet owners found that over 40% of pet owners consider pet insurance either confusing or too expensive*. To simplify this experience, PetDesk has partnered with Pets Best, a leading pet insurance provider, to help educate pet parents and veterinary clinics about pet insurance to increase adoption by clarifying common misconceptions.
"We're thrilled to partner with PetDesk on this new Pet Insurance Guide, and share the same dedication to constantly enhancing our customers' experience in innovative ways," said Donna Cejalvo, VP of Business Development at Pets Best. "This new partnership will help both veterinarians and pet owners alike learn more about how to best care for and protect their pets."
Features and benefits of the Pet Insurance Guide include.

Education for both clinics and pet parents to get ahead of difficult financial conversations before they happen
Simplified cost of care conversations between clinics and clients
Curated, trusted pet insurance providers including Pets Best, Trupanion, and ASPCA® Pet Health Insurance Program with other providers constantly being evaluated based on plans, coverage, and more.
The PetDesk Pet Insurance Guide will be exclusively available in the PetDesk app starting February 10, 2021, accessible for all registered users. For more information on the Pet Insurance Guide, visit http://www.petdesk.com/pet-health-insurance-guide
About PetDesk
PetDesk, an industry leader in veterinary client communication software, has helped over 2,500 veterinary practices streamline business with simple software solutions that help pet parents stay current and pet care providers stay connected. The PetDesk Experience has garnered more than 2 million app users by offering powerful features including a 5-Star Rated Pet Health Mobile App and industry-leading customer support. The nearly 200,000 reviews across the App/Google store are evidence of PetDesk's commitment to connecting pet owners to pet care providers.
Founded in 2013, PetDesk secured a Series-B Investment of $12 million from Silicon Valley based PeakSpan Capital in December 2018. Headquartered in San Diego, PetDesk has more than 90 employees and proudly supports a gender balanced and pet-friendly workforce. For more information about PetDesk, visit http://www.petdesk.com.
About Pets Best Insurance Services, LLC
Pets Best offers pet insurance and wellness plans for dogs and cats in every state. Founded in 2005 with a mission to provide access to comprehensive animal healthcare at an affordable price, Pets Best delivers flexible coverage, fast claims and excellent customer service. In 2019 the company was acquired by Synchrony (NYSE: SYF) and is part of CareCredit, a Synchrony solution.
Pets Best is highly rated by independent review sites and is recommended by veterinarians across the nation. Pets Best is a founding member of NAPHIA, an organization dedicated to ensuring high standards and transparency for the pet insurance industry. Visit http://www.PetsBest.com for more information.
Pet insurance coverage offered and administered by Pets Best Insurance Services, LLC is underwritten by American Pet Insurance Company, a New York insurance company, or Independence American Insurance Company, a Delaware insurance company headquartered at 485 Madison Ave. 14th Fl. New York, NY 10022.
About Trupanion
Trupanion is a leader in medical insurance for cats and dogs throughout the United States and Canada with over 530,000 pets enrolled. For over two decades, Trupanion has given pet owners peace of mind so they can focus on their pet's recovery, not financial stress. Trupanion is committed to providing pet owners with the highest value in pet medical insurance with unlimited payouts for the life of their pets. The company was founded in 2000 and is headquartered in Seattle, WA. Trupanion policies are issued, in the United States, by its wholly-owned insurance entity American Pet Insurance Company and, in Canada, by Omega General Insurance Company. For more information, please visit trupanion.com.
About Crum & Forster Pet Insurance Group™
Crum & Forster Pet Insurance Group (C&F Pet) is committed to helping pet parents get access to reliable and affordable pet health insurance plans. With a history dating back to 1997, making it one of the original providers in the U.S., C&F Pet utilizes various go-to-market strategies, including direct-to-consumer, employee benefits, white labels, and other partnerships. Insurance plans are underwritten by United States Fire Insurance Company and produced by C&F Insurance Agency, Inc.(NPN # 3974227), a Crum & Forster company. More information can be found at http://www.cfpetinsurance.com.
The ASPCA® is not an insurer and is not engaged in the business of insurance. Through a licensing agreement, the ASPCA receives a royalty fee that is in exchange for use of the ASPCA's marks and is not a charitable contribution. More information on ASPCA Pet Health Insurance can be found online at http://www.aspcapetinsurance.com. Crum & Forster Pet Insurance Group, Crum & Forster, and C&F are registered trademarks of United States Fire Insurance Company. Crum & Forster is comprised of leading and well-established property and casualty business units.
*PetDesk Survey, November 2020
**Limited to customers in the US, only