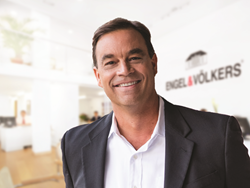 As a company committed to always raising the bar and creating value for our franchisees, this new position establishes growth and innovation as a priority
NAPLES, Fla. (PRWEB) October 16, 2019
Engel & Völkers Florida today announced Peter Giese has joined its corporate team, bringing over 30 years of industry experience to further amplify growth within the Engel & Völkers Florida network. As Chief Growth Officer, Giese is responsible for consulting with current Engel & Völkers Florida franchise-brokerages to assist with the recruitment, development and retention of talent. Additionally, Giese will consult with the Engel & Völkers Florida franchise expansion team to assist with the ongoing strategic efforts in new markets, as well as for potential merger & acquisition opportunities.
"In this new role, I am here to implement proven processes that will allow the Florida license partners to attract and develop talented real estate advisors and double the size of the brands presence in the state of Florida," said Giese.
Giese comes to Engel & Völkers Florida from United Real Estate where he served as President, delivering record industry growth by expanding the company to over 80 franchise locations with more than $4.5 billion in annual sales in under five years. Prior to his position at United Real Estate, Giese was Senior Vice President of Franchise Sales and Development for Fortune 500 company, Realogy, where he focused on increasing franchise sales and acquisitions.
"Having personally started my own national brand and previously worked with some of the largest global real estate brands in the industry, I have immense respect for the consistency of the Engel & Völkers brand and how it creates an emotional attachment with it's luxury real estate advisors and their discerning clients across the globe," said Giese.
Giese's addition comes amid Engel & Völkers Florida's eagerness to continue to expand across the region and raise recruitment and retention rates within already existing Engel & Völkers Florida franchise-brokerages. The company's 2020 goal is to grow by 20-percent in agent count and add 10 new shops in key markets across Florida.
"As a company committed to always raising the bar and creating value for our franchisees, this new position establishes growth and innovation as a priority," said Timo Khammash, Managing Partner of Engel & Völkers Florida.
Currently, the Engel & Völkers Florida network is comprised of 31 franchise-brokerages with over 540 advisors. In 2018 the average sales price increased to $559,000 with a sales volume of $1,360,000,000.
"Peter has quickly established himself and is projected to make a meaningful impact at Engel & Völkers Florida," said Oliver Tonn, Co-Owner of Engel & Völkers Florida. "With this expanded role within our leadership team we see further potential for additional Engel & Völkers markets, especially in the central and east coast market of Florida."
Press contact:
Linzee Werkmeister, Director, Public Relations & Franchise Support
Email: Linzee.Werkmeister(at)evrealestate.com
Tel: (239) 348-9000
About Engel & Völkers:
Engel & Völkers is a global luxury real estate brand. Founded in Hamburg, Germany in 1977, Engel & Völkers draws on its rich European history to deliver a fresh approach to luxury real estate in the Americas with a focus on creating a bespoke, white-glove concierge client experience at every stage of the home buying or selling process for today's savvy homeowner. Engel & Völkers currently operates approximately 175 shop locations with more than 3,000 real estate advisors in the Americas, contributing to the brand's global network of over 11,000 real estate professionals in more than 30 countries, offering both private and institutional clients a professionally tailored range of luxury services, including real estate, yachting and aviation. Committed to exceptional service, Engel & Völkers supports its advisors with an array of premium quality business services; marketing programs and platforms; as well as access to its global network of real estate professionals, property listings and market data. Each brokerage is independently owned and operated. For more information, visit evrealestate.com.
About Engel & Völkers Florida:
Engel & Völkers Florida is the Master License Partner of the global luxury real estate brand Engel & Völkers in the state of Florida. Recognized for uniquely recruiting, training and equipping some of the top professionals in the real estate industry, Engel & Völkers Florida's exclusive franchise model positions its license partners at the top of the premium market to gain market share and support their bottom line. The company represents franchise locations in: 30A Beaches, Belleair, Boca Raton, Bonita Springs-Estero, Cape Coral, Clermont, Delray Beach, Destin, Fort Lauderdale, Fort Myers Downtown, Jacksonville, Jacksonville Beach, Jupiter, Leesburg, Madeira Beach, Marco Island, Melbourne Downtown, Melbourne Central, Miami-Coral Gables, Olde Naples, Orlando-Winter Park, Palm Beach, South Tampa, St. Pete, Stuart, Wellington, and Windermere.
Engel & Völkers Florida is continuing to strategically strengthen and expand its presence in premium real estate markets across the state of Florida. If you would like to know more about the Engel & Völkers brand or how to join its global network, which is known for demonstrating competence, exclusivity and passion, feel free to call our corporate office, located at 633 Tamiami Trl N, Suite 201, Naples, FL 34102 USA. Tel: +1 239-348-9000.
For more information about Engel & Völkers Florida, please visit evfranchise.com