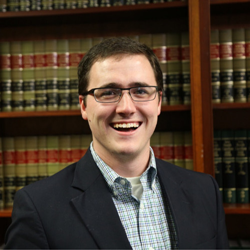 "First and foremost, as attorneys we have an ethical responsibility to keep client data confidential."
WINSTON-SALEM, N.C. (PRWEB) June 06, 2019
Peter N. McClelland, in-house legal counsel for Threat Sketch, will be presenting a class entitled "10 Easy Areas to Adapt Technology for Small Firms" on June 7 at the North Carolina Bar Center in Cary, NC, as part of the Small Firm and Technology Section of the North Carolina Bar Association's Continuing Legal Education.
McClelland's contribution to the class will include information about basic security and privacy procedure and policy, password management, safely using artificial intelligence in a law firm, and cloud services to protect clients and the firm from hacking of personal information.
"First and foremost, as attorneys we have an ethical responsibility to keep client data confidential," McClelland says. "But also ignorance of cybersecurity can be devastating for any business, including law firms of any size, leaving the firm open to cyber attack with accompanying financial losses and damage to the firm's reputation. Likewise, attorneys need to learn how to serve their clients' legal needs related to cybersecurity and data privacy."
This class is part of an all-day Small Firm & Technology conference providing continuing legal education (CLE) to North Carolina's lawyers. Every attorney in North Carolina is required to take 12 hours of CLE each year, and as of 2019 one hour must be for technology training.
"From my experience working with Threat Sketch, a leading cyber risk management company, I know first-hand the importance of minimizing an organization's vulnerability to attack," McClelland says. "Law firms, both large and small, need to incorporate technology into their practice in order to be efficient, and therefore the associates and partners of those firms need to have a basic knowledge of security and privacy in order to use that technology properly and protect their clients."
Presenting at the NC Bar Assocation's CLE is just one of many ways Threat Sketch is working to educate the public, from small businesses to government organizations, on the importance of cybersecurity. "Cybersecurity is entering a new era of data liability, where new laws across the United States are changing the impact of companies that have been successfully attacked," says Rob Arnold, CEO of Threat Sketch. "Education is a key element in helping the business community understand how the risk landscape is evolving and how it impacts our local, regional, and national economy."
About Threat Sketch -- Founded in 2015 in Winston-Salem, NC, Threat Sketch provides data and analytics to evaluate and manage cybersecurity at a strategic level. The founders bring decades of IT, cybersecurity, risk analysis, financial/economic, and project management experience and expertise to a wide variety of business clients. To learn more call 844-487-4757 or visit threatsketch.com.