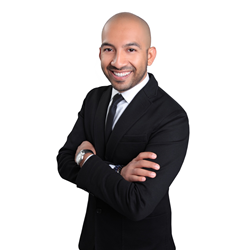 "I get to be part of a dream team of real estate professionals who curate amazing experiences for industry professionals"
MIAMI (PRWEB) March 26, 2020
The MIAMI Association of Realtors (MIAMI) has elected Peter Ortega as its 2020 Young Professionals Network President (MIAMI YPN). He and the 2020 MIAMI leadership boards were installed Feb. 28 at MIAMI's 2020 Inaugural Celebration at the Seminole Hard Rock Hotel & Casino in Hollywood.
"I get to be part of a dream team of real estate professionals who curate amazing experiences for industry professionals," Ortega said. "Not only is it an honor to be involved, it has been extremely beneficial for my business. What I love most is the collaboration with such a diverse group of individuals who are open minded and inclusive to all real estate professionals."
MIAMI YPN is comprised of real estate influencers creating the next generation of real estate leaders. To join, visit: http://www.MiamiRealtors.com/YPN
Ortega is a dynamic, customer-focused bilingual Broker Associate for Keller Williams Realty, Inc. on Miami Beach. He has worked for Keller Williams since October 2013, and was promoted at the brokerage to become a productivity coach from April 2018 to May 2019.
Ortega is highly regarded for record-breaking deals in the fast-paced and competitive real estate industry.
In addition to leading the MIAMI Young Professionals Network, Ortega contributes to his community in many ways. He is a volunteer for the Chapman partnership, an organization that helps the homeless in Miami. He is a community volunteer for Habitat for Humanity.
Ortega is a Sterling R. Major investor in the Realtors Political Action Committee, which is a political advocacy organization that works to protect the real estate industry and the dream of homeownership for residents across the country.
Ortega is also a member of the following organizations: NAHREP National Association of Hispanic Real Estate Professionals; NAGLREP- National Association of Gay and Lesbian Real Estate Professionals; Jonathan Spikes Foundation, Inc. Affirming Youth; Keller Williams Young Professionals.
Ortega has received the following awards: 2019 MIAMI YPN of the Year; 2018 Culture Keeper from Keller Williams Miami Beach; 2018 YPN Community Outreach Award; and the Spirit Award/ Culture Keeper.
Ortega studied criminal justice at California State University, Long Beach.
Announcing the 2020 YPN MIAMI—Young Professionals Network Leadership Board
Joining Ortega are: YPN MIAMI President-Elect Bethany Martinez, SRS of RealtedISG International Realty; 2019 YPN MIAMI President Wesley Ulloa, CLHMS; Broward Chapter Chair Megan Probst, SRS of Compass Florida; JTHS-MIAMI Chapter Chair Shakearah Rolle of Arise Real Estate Advisors; Gabriel Amedee of Strike Realty; Shanut Anaut of LUXE Properties; Katherine Arteta of Realty World MRG; Phillip S. Calloway, MS, C2EX of Influencers Realty Group; Jeffrey Corriolan, PSA, ABR, SRS, e-PRO of The Keyes Company; Dania Diaz, TRC, MRP, CNE of RE/MAX Advance Realty; Chandra Etienne, MSIRE of EXP Realty The Chandra Etienne Group; Banna Fakhoury of Regatta Real Estate Management; Antonio Feliz, C2EX of Best Choice Real Estate; Tiffani Hill of Global Real Estate Advisor One Sotheby's International Realty; Joanna Jimez of Opes Real Estate Group; Torrey Jones of RelatedISG International Realty; Jaime Mejia, MRP of LUXE Properties; Alfredo Morejon of The Keyes Company; Julie Sidorevskaya, BPOR of Julie's Realty; Ashley Silva of Coldwell Banker Residential Real Estate.
Kevin Puricelli is the MIAMI Director of Creative Services & Executive for YPN. Teresa King Kinney, CAE, CIPS, GRI, RCE, TRC serves as the CEO for the MIAMI Association of Realtors.
About the MIAMI Association of Realtors
The MIAMI Association of Realtors was chartered by the National Association of Realtors in 1920 and is celebrating 100 years of service to Realtors, the buying and selling public, and the communities in South Florida. Comprised of six organizations, the Residential Association, the Realtors Commercial Alliance, the Broward-MIAMI Association of Realtors, the Jupiter Tequesta Hobe Sound (JTHS-MIAMI) Council, the Young Professionals Network (YPN) Council and the award-winning International Council, it represents 52,000 total real estate professionals in all aspects of real estate sales, marketing, and brokerage. It is the largest local Realtor association in the U.S. and has official partnerships with 222 international organizations worldwide. MIAMI's official website is http://www.MiamiRealtors.com