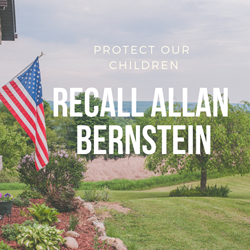 While we implored Allan Bernstein to support children and their safety he voted to put them at risk.
TUSTIN, Calif. (PRWEB) December 06, 2018
Protect Tustin Kids, an organization consisting of Tustin residents, has announced a petition to recall Tustin City Council member, Allan Bernstein. The recall notice, which includes a petition, states the following:
"It is our intention to recall Allan Bernstein, Tustin City Council Member from office. We intend to recall Allan Bernstein for compromising the children of Tustin's safety when he voted to place a homeless shelter 500 feet away from Heritage Elementary School and directly across from a future toddler splash pad and playground. He did not consult or inform Heritage Elementary school administration, the Tustin Unified School District, members of the Tustin School Board, the PTA, the Tustin Planning Commission, or the community.
During the November 5th Town Hall Meeting, the Tustin Chief of Police confirmed that this decision will add risk to the safety and security of the children that go to Heritage Elementary, and that the Tustin Police Department cannot guarantee the safety of the children. Some of the children are as young as four-years-old. While we implored Allan Bernstein to support children and their safety he voted to put them at risk."
Days following the November 5th meeting, the City of Tustin announced that it will, indeed, seek an alternate location for the shelter, however, made it clear that there is still a high probability that the former ATEP building, steps away from Heritage, will still function as a shelter for a short amount of time as the city works on the alternate temporary location and permanent location.
"This is just the City's way of trying to look like it hears us, when in reality, nothing has changed," said Janel Bommaiah, Tustin resident and Heritage parent. "We will not accept a low-barrier homeless shelter so close to our children, even for a day. Temporary risk is still a risk, and the City should be ashamed that it even considered this location in the first place."
Today, Protect Tustin Kids has collected 2,500+ signatures from community members seeking to prevent this homeless shelter from operating so close to their children's school. The list continues to grow, and so does the Protect Tustin Kids task force made up of Tustin parents, grandparents, neighbors, Heritage PTA members, business owners, and prominent city leaders. Two leaders speaking out against the emergency shelter location are newly-elected Tustin City Council Members, Austin Lumbard and Barry Cooper.
In a recent Spectrum News special, newly elected Tustin City Council member and Heritage parent, Austin Lumbard speaks out about this poorly constructed and potentially dangerous decision, emphasizing the need for a shelter, but in a safer location: "We've got to find the right spot, and this is not it," said Lumbard. "I think we can, as a community, find a positive outcome; it just takes action, and we can't waste any time doing it."
Cooper was front and center supporting parents and residents during a protest that took place at the shelter location on November 1st, and has spoken with various media sources about the City's unpopular decision. He agrees that the City has not been transparent with its residents throughout this process.
The City admits that it has not been effectively communicative with its residents, and residents have been urging the City to work with them, rather than against them. As concerned residents continue to speak directly to the City Council at bi-monthly meetings, via email, and phone, Allan Bernstein remains silent while other Council members have made efforts to hear the community.
"Bernstein's lack of communication and common courtesy to his constituents, and vote in favor of this potentially risky situation, shows Tustin residents that he does not strive to serve us," said Jeff Lawrence, Tustin resident and Heritage parent. "This is why he is the first to be recalled. We will continue down the line until we know that the Tustin City Council has our children's best interest in mind."
The recall petition for Allan Bernstein is currently circulating the city of Tustin, and can be accessed for signatures through http://www.TustinRecall.com.
About Protect Tustin Kids Organization
The Protect Tustin Kids Organization is a group of concerned parents and neighbors in the Tustin Legacy community working together to stop the City of Tustin from establishing a 50-bed homeless shelter 500 feet from Heritage Elementary School. While we support the City of Tustin in its efforts to help the homeless individuals in our community, we believe the proximity of the shelter to Heritage Elementary School and the incoming Veterans Sports Park is a safety risk to our children. Please visit http://www.ProtectTustinKids.com for more information, and visit http://www.TustinRecall.com to sign the petition to recall Allan Bernstein.
Press Contact:
Media Relations | Protect Tustin Kids Organization
ProtectTustinKids(at)gmail(dot)com