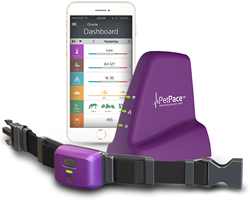 Together with Intel, we will continue to pursue our commitment to technological innovation in the service of animal health and wellbeing.
Barcelona, Spain (PRWEB) February 22, 2016
PetPace, the provider of an innovative IoT collar for remote real-time monitoring and analysis of pet vital signs and activity, today announced that it was chosen for Intel's prestigious Ingenuity Partner Program. As part of Intel's renowned, exclusive technology accelerator, the company will produce a new version of the PetPace collar integrating Intel's newest wireless connectivity chip.
The collaboration between Intel and PetPace has already produced a demo collar unit with Intel's chip, which will be showcased at Intel's booth in the 4YFN (Four Years From Now) convention at the upcoming 2016 Mobile World Congress in Barcelona - the world's largest conference dedicated to mobile technology.
The new PetPace collar leverages innovative Intel technology to more effectively stream pet health data, reports and alerts to pet owners and medical staff. This enables PetPace to offer even better real-time detection of pet medical problems, helping caregivers take early preventive actions.
"We are pleased and honored to have been chosen from among hundreds of companies by Intel, and see this as further confirmation of our global leadership in the pet wearable tech arena," said Avi Menkes, CEO of PetPace. "Together with Intel, we will continue to pursue our commitment to technological innovation in the service of animal health and wellbeing," he concluded.
Roy Ramon, Managing Director for Intel's Ingenuity Partner Program added, "We happily welcome PetPace's innovative technology. We look forward to continue the joint work that will advance pet health and bring peace of mind to pet owners."
"We were extremely impressed with the professional capabilities of the PetPace R&D team throughout the integration. Their professionalism and expertise facilitated a smooth and fruitful joint development process," noted Avi Yashar, Integration Group Manager & IPP Tech PMO, Intel Corporation.
The PetPace collar will also be honorably presented in the Israel Export Institute's booth at the 2016 Mobile World Congress, after winning the "Most Promising Israeli Start-Up" competition in October 2015.
About PetPace
PetPace was founded in 2012 to bring peace of mind to pet owners and prevent unnecessary pain and suffering for dogs and cats through improved pet health and quality of life. PetPace specializes in the remote monitoring of pet vital signs by utilizing advanced analytical methods and alerting models. The company's low power, wireless collar is fitted with an array of sensors that report abnormal vital signs within established physiological and behavioral parameters. Once an abnormal sign or behavior is detected, a sophisticated cloud-based analytical engine evaluates the signs and if needed, sends an immediate alert regarding any suspected condition. This allows the owner or the vet to take preemptive action to protect the pet's health. For more information about PetPace real-time pet health monitoring, visit http://PetPace.com.