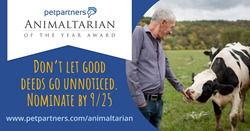 "No matter age or species, if someone devotes his or her life to helping and saving animals, PetPartners Pet Insurance encourages the public to spotlight their efforts by nominating them for a chance to win,"
RALEIGH, N.C. (PRWEB) July 31, 2018
On Wednesday, August 1st, 2018, PetPartners, Inc. will begin accepting submissions for the 5th Annual Animaltarian of the Year Award! Each year, the pet insurance company invites animal welfare organizations from across the country to share their cause. By submitting a short video or photos, groups advocating for animal rights enter themselves for a chance to win a $5000 donation.
There are many types of Animaltarians that are encouraged to apply. Rehabilitation centers, nature preserves, rescue and shelter organizations and many more all qualify as Animaltarians. "No matter their age or species, if someone devotes their life to helping or saving animals, PetPartners Pet Insurance encourages the public to spotlight their efforts by nominating them for a chance to win," says an organizer of the contest.
For eight weeks, these organizations and their supporters are welcome to submit applications, including a brief summary of how they would use their donation to better their cause. Animaltarians are often very humble, so PetPartners specifically encourages all fans and supporters to nominate their favorite animal enthusiasts as well. Once all applications have been received by Tuesday, September 25th, the voting will begin.
From Thursday, September 27th to Wednesday, October 24th, candidates have the opportunity to advocate for themselves and drum up votes. Sharing their voting link on social media and with followers, volunteers, and subscribers will give any organization great odds of becoming a finalist.
There will be eight finalists chosen and from Friday, October 26th to Thursday, November 8th, they will be campaigning for the ultimate award of Animaltarian of the Year. Winning this annual contest will not only increase awareness of the winning organization but will also add a $5000 donation to their cause! To ensure that the odds are fair, an esteemed panel of five professional, animal-friendly judges will assist the public in the finalist round voting. The winner and Animaltarian of the year will be announced on Sunday, November 11th!
For Official Contest Rules, or to submit an entry or nominate a candidate, please visit http://www.PetPartners.com/Animaltarian. Additionally, follow Animaltarian of the Year on Facebook at https://www.facebook.com/AnimaltarianOfTheYear throughout the Contest period.
For more information on the Animaltarian of the Year Award Contest or PetPartners' pet health insurance, please contact Inbound Marketer Maggie Dean at 919-926-2742 or mdean(at)petpartners.com.
#
About PetPartners Inc.
PetPartners provides pet health insurance in all 50 United States, offering products to individuals and groups (such as associations, companies and credit unions). Since 2002, PetPartners has been the exclusive provider of pet health insurance protection to registrants of the American Kennel Club through the AKC Pet Insurance brand. In 2006, PetPartners was selected by the Cat Fanciers' Association, one of the largest registry of purebred cats, to provide health insurance to CFA registrants. Founded by Sir John D. Spurling, a leading British innovator in pet insurance who remains on its Board of Directors, PetPartners became a member of The IHC Group in 2017. For more information, please visit http://www.PetPartners.com.