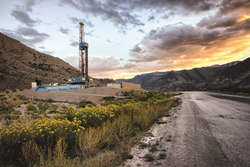 President Trump is meeting with oil company executives today to discuss impacts of COVID-19 and how the plunge in petroleum prices is roiling America's oil industry. This is a critical time for the industry, which plays a key role in combating the pandemic and in America's energy indepdence.
HOUSTON (PRWEB) April 03, 2020
President Trump is meeting with oil company executives today to discuss impacts of COVID-19 and how the plunge in petroleum prices is roiling America's oil industry. This is a critical time for the industry, which provides the energy needed to combat the pandemic and plays a key role in helping America sustain our national security.
The actions necessary to slow the infection rate of the COVID-19 pandemic have wide-reaching effects that will ripple through our culture and economy. Protecting citizens' health and safety is the top priority, and that should include mitigating economic impacts and preserving national security. Congress and the President took a great first step with the $2.2 trillion economic stimulus package, which will offer some help to businesses and families.
The Petroleum Equipment & Services Association (PESA) represents the oilfield equipment and services sector (OFS), which has been hit incredibly hard by demand loss due to the simultaneous effects of COVID-19 and the supply flood from Saudi and Russian overproduction. This sector represents all the companies involved in oilfield equipment manufacturing, drilling, completions, pressure pumping and more.
They are energy technology companies, providing the innovations that keep the U.S. and our allies from relying on foreign sources of energy. Most importantly, the OFS sector is critical in driving the breakthroughs that will deliver an increasingly lower-carbon future to the world. The OFS culture is to solve problems with technology. Deployment of automation, artificial intelligence and digital solutions are helping the energy industry tackle water recycling, volatile organic compounds and flaring, as well as addressing methane and CO2 emissions.
This sector is hit hardest by reductions in operations as their customers, the oil and gas producers, have aggressively curtailed spending and demanded price reductions because of demand loss and the supply flood. America's OFS sector, which employs more than half a million men and women, will feel the biggest impact with hundreds of thousands of jobs potentially lost.
There are several policies lawmakers could enact to help this critical sector and offer temporary support to an industry that's been jolted by the triple threat of the COVID-19 pandemic, foreign-induced market oversupply and demands for price concessions by oil and gas producers.
First, and most importantly, OFS facilities must be designated as critical infrastructure by Department of Homeland Security and state and local governments when shelter-in-place or "lockdowns" are ordered. DHS guidance includes most oilfield services operations, but state and local governments don't always follow these guidelines when enacting their own lockdowns. A consistent power supply is essential for public health facilities and for the millions working and taking classes from home. We cannot afford disruption to the energy supply during a pandemic.
There are also aspects of the recently passed stimulus package that could provide short-term financial help such as loan guarantees and other economic stabilization measures from the Department of Treasury. These should be available to all affected sectors, including OFS. These funds may help OFS companies sustain operations and retain employees during the slowdown, as well as preserve America's strategically important ability to produce its own energy supply. It's critical that access to these resources remains in place as policies are implemented.
On tariffs, the OFS sector would be helped by extending for one year the 301 product exclusions already granted by the United States Trade Representative. These exclusions are due to expire soon and would impose additional costs on companies already struggling to deal with an unprecedented crisis.
Finally, lawmakers could provide tax credits for companies forced to restructure manufacturing facilities due to supply chain disruptions – in many cases shifting from overseas suppliers to domestic manufacturers. Nearly every business is experiencing supply chain disruptions, and the OFS sector is no exception. Manufacturing and production are continuing even as companies manage around supply chain challenges and protect worker health and safety.
Our industry has a critical role in helping turn back the historic pandemic and emerging stronger on the other side. Times are difficult right now, and the OFS sector could use some short-term help. The world will get past COVID-19, diplomacy will help rectify the oversupply situation, and the OFS sector will be critical technology leaders in a smart energy transition. The US needs this sector to stay healthy, and the federal government can assist.