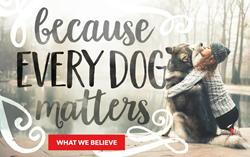 Our goal is to partner with passionate customers to change the world wherever we can.
Anaheim, CA (PRWEB) May 23, 2017
8. Million. Meals. Yes, you read that right.
iHeartDogs.com, a top pet blog (18 million fans on social media, 1.5 million email subscribers,10 million visitors per month) and eCommerce rising star, announced that in just over 24 months they've hit 8 million meals donated to shelter pets in need.
How do they do it?
iHeartDogs develops unique products and services for their extensive customer base and builds in purpose driven initiatives passionate pet parents can be a part of. A custom designed shirt may feed 14 shelter dogs, a proprietary, made in the USA dental treat 7 and so on.
And that is just where it begins. This year they are already on track to donate 30,000+ toys (through their Project Play program) to shelters to increase adoptions, donate $50,000+ to veterans needing service dogs (through their Pets for Vets program) and more.
Justin Palmer started the business 4 years ago inspired by his rescued Husky named "Splash". Since day one the company has been on a mission to make a difference in the communities that they serve. "Our goal is to partner with passionate customers to change the world wherever we can". And that is exactly what is happening at an insane scale.
Customers rave that one of the most authentic pieces of this mission driven company is that they don't just "say" they make a donation and leave it there. Their team works extensively with teams on the ground in shelters and non profits following through on programs and then reports all the progress and impact back to their customers. After buying a toy for your pup, you will see a transparent follow up on how your contribution made a real difference in a real shelter to a real dog who is waiting for their forever home.
Want to know more? Ask a passionate dog friend - they've probably heard of them.
If you'd like to chat, partner or go to the dog park with the iHeartDogs team, drop a line to mm(at)homelifemedia.com.