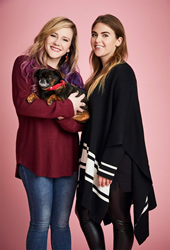 LOS ANGELES (PRWEB) August 26, 2020
The Petzbe app is a 100% pet-focused community launched in April of 2018 by Andrea Nerep. When pet media expert Chelsea Rose Williams found the Petzbe app online, she was immediately intrigued and contacted Nerep. Their partnership-turned-friendship was a match made in heaven and over the last year and a half, Nerep and Williams have worked with their small team to grow Petzbe by over 1,150%!
Petzbe is the social app for pets only. The female-founded app currently has nearly 500,000 users and has received media attention from WIRED, Good Morning America, Wall Street Journal and other major outlets. Last summer, Petzbe had a successful collaboration with Universal Studios to promote the movie "The Secret Life of Pets 2."
According to founder Nerep, "Our users not only love their pets, but they're going as far as pretending to be their pets! It's a super positive, fun, and supportive community." Williams, Director of Growth and Content Creation, says that the "cutest community on the planet" fulfills a special mission to break down barriers between people in a unique way. "We find that when people speak as their pets," she says, "they are very kind to each other, and funny too!" Petzbe creates a safe space from the pet's perspective that allows individuals to be creative without pressure. Photos of humans are allowed - as long as there is a pet in it.
The Petzbe community is also committed to helping animals in need. Every third Sunday of the month, Petzbe hosts a "Lend a Paw" campaign with different themes and stickers. For each photo shared that day with #Lendapaw, Petzbe donates $1 to an animal cause. They have raised almost $100,000 so far, including $17,000 for animals impacted by the recent fires in Australia alone and tens of thousands for rescue animals and animals affected by COVID-19. Petzbe has also secured a partnership with Best Friends Animal Society to work together on future Lend a Paw Campaigns.
Petzbe is pet-centric but their causes also benefit humans. For World Mental Health Day, Petzbe hosted a fundraiser for Pet Partners & Doggie Do Good - organizations that benefit human well-being through therapy animals. They also recently raised $3,500 for human nurses through the Nurses Foundation.
Nerep stresses the importance of pets' impact on our mental and physical health. As a person who has struggled with bipolar disorder, she can confirm that her Brussels Griffon Angus has had a huge positive effect on her overall happiness. Nerep proudly says that Angus is the CEO of and the inspiration behind Petzbe. "He has had such a significant, positive impact on my overall well-being," she says, adding, "It's funny how a tiny little outer-space-looking dog can make a human so happy, and even inspire her future career!"
Williams' personal and professional experiences with animals have made her an expert in the pet industry. She has been an animal lover for her entire life and grew up helping care for her family pets and the many pets her mother rescued over the years. She currently owns ten pets of her own: four dogs and six cats. She uses all of her pets as sources of inspiration and subjects for her art, marketing, and content creation.
"I've always said one of my biggest dreams is to help create more positive and authentic experiences in the social media world," Williams stated. "I want to inspire people and give them the tools to be creative and have fun without the pressure that can often exist in these spaces." Like Nerep, Williams feels her pets contribute daily to her happiness and well being. As someone who is diagnosed with ADHD, her animals help bring structure and serenity to her life.
In August 2020, Petzbe launched their premium luxury treats: Salmon Cigars, Salmon Treasures, and Salmon Breath Mints - all stored in beautifully designed, vintage-style containers that humans will love to put on display. The treats are made of 100% wild Alaskan salmon that promotes brain health and supports the immune system. They are luxurious, elegant, and incredibly delicious! 10% of all profits are donated to animal rescues.
Order your salmon treats here!
Petzbe is growing fast and continues to innovate; they currently have other projects in the works, such as the Petzbe mobile app game, Petzbeville. In this game, players navigate through an exciting world from the pet's perspective and explore areas like the Catnip Garden, the Oversized Fire Hydrant Theme Park, the Fur Saloon, and more. Petzbeville, like Petzbe, is designed to give the player a serene, unique, fun and positive experience. They recently demoed the game app for iPad and iPhone and will release the game later this year.
For more information about Petzbe or to interview Nerep and Williams, please contact Deborah Gilels at LA Media Consultants, 818-648-9513 or email at ddgilels@prodigy.net.
Download media kit (Google Drive)
https://drive.google.com/drive/folders/1zNvR7G5mcm8S1TsvVVSYgAmrjXMuEJaJ?usp=sharing
Download media kit (Dropbox)
https://www.dropbox.com/sh/crrluoyxl6knxoq/AAAKxzkmgRBrS6REIwfhMSGKa?dl=0