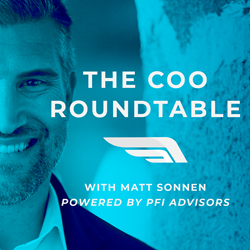 LOS ANGELES (PRWEB) December 11, 2018
PFI Advisors ("Pure Financial Independence") announced today that the firm has launched a new podcast, formally airing in 2019. The podcast, The COO Roundtable, Powered by PFI Advisors, will feature an interview with two or three Chief Operating Officers per episode, discussing the strategies they incorporate to successfully tackle their day-to-day responsibilities. PFI Advisors plans to highlight operational best practices and the benefits that professional management can bring to an RIA.
PFI Advisors' inaugural guests will be some of the COOs most recently highlighted in PFI Advisors' white paper, "Exploring the Benefits of Professional Management for RIAs - A Deeper Look into Chief Operating Officers:" Gary T. Bonner of Avalon Advisors, Jeff Fuhrman of Coastal Bridge Advisors, Michael Lee of LourdMurray, and Anthony Craun of Sand Hill Global Advisors. Trevor Chuna of Sequoia Financial will be joined by Shaun Kapusinski, Director of Operations of Sequoia, in a subsequent episode.
With the goal of shedding light on the tremendously important work COOs perform every day, this podcast should shift the mindset of operations professionals from being viewed as "cost centers" and not "revenue generators" within sales organizations. PFI Advisors intends to demonstrate that, without leveraging a Chief Operating Officer, RIAs cannot achieve the organic or inorganic growth initiatives they set for themselves. PFI Advisors strongly believes that COOs are needed to free the owners of these organizations from the daily minutiae of running a business.
As Jeff Fuhrman said during his interview for our recent white paper, "It's the Chief Operating Officer's duty to be in the wings, supporting the role of the advisor. Leave the management of the firm to the COO, and they will make sure advisors get what they need so they can do the most effective job for their clients."
PFI Advisors' goal is to help the industry realize the massive value Operations professionals bring to RIAs. Every advisory firm struggles with the goal of providing high-touch service to a larger client base in a scalable and efficient fashion. It is the COO's job to execute the owner's vision through people and technology, and to execute that vision profitably.
To learn more about PFI Advisors, visit http://www.pfiadvisors.com. Follow us on Twitter and LinkedIn, or subscribe to our blog, or to our podcast.
###
About PFI Advisors
PFI Advisors ("Pure Financial Independence") was founded in 2015 with the following mission in mind:
To further evolve the RIA industry from a collection of practices to businesses, and to be a continued voice in validating the industry as a legitimate landing spot for billion-dollar teams and their clients.
PFI Advisors is an operational consulting firm that supports the unique back office, technology, and operational needs of RIAs in growth mode. PFI Advisors conducts Technology Assessments, manages Technology Conversions, and provides M&A Preparation and Integration Services to RIAs seeking growth support. The firm announced the launch of COO Resource in January 2018, an ongoing retainer-based service in which RIAs and their Chief Operating Officers can leverage the knowledge and expertise of PFI.
For breakaway advisors, PFI Advisors manages full RIA set up and transition to Independence, including office build out, RIA infrastructure development, client transition, and billing services – all for a simple consulting fee. There is no complicated long-term AUM fee structure or equity stake required to build the firm's future and provide advisors Pure Financial Independence.