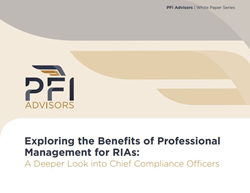 RIA owners are continuing to turn to professional management to handle the non-client facing aspects of running the business. - Matt Sonnen
LOS ANGELES (PRWEB) November 21, 2019
PFI Advisors announced today the release of a new industry report (the eighth in its continuing educational series) on an often overlooked topic facing independent RIAs: how to leverage professional management – namely, a Chief Compliance Officer – to manage growth in the business.
Often viewed as a business deterrent rather than a source of business development, PFI Advisors' research highlights the growth opportunities CCOs unlock for RIAs once the owners of the firm can focus their time and energy back on business development and client service, as opposed to tending to the regulatory compliance of the firm.
The report, "Exploring the Benefits of Professional Management for RIAs: A Deeper Look into Chief Compliance Officers," highlights the evolution of advisory practices morphing into real businesses with enterprise value through professional management. The report profiles four successful billion-dollar RIA CCOs: Sean Chen of Camden Capital; Angela Sheppard of Nachman Norwood & Parrott; Eric Donofrio of Schechter; and Heather Fortner of SignatureFD.
These featured CCOs provide real life examples of their work and how it has allowed their respective RIAs to evolve and remain competitive. Fast-growing RIAs that add professional management alleviate advisors from administrative tasks and thus allow them to focus on new business opportunities while the Chief Compliance Officers can ensure the firm's client relationship and business practices are fully compliant. The research concludes that RIAs cannot pursue successful organic or inorganic growth strategies without a competent CCO in place.
PFI Advisors also leveraged several industry-leading compliance consultants for their research. Jack Rader of ACA Compliance, Chris Winn of AdvisorAssist, Matt Calabro of Compliance Solutions Strategies, and Brian Hamburger of MarketCounsel all lent their expertise to the report.
"As RIAs continue to grow and achieve greater levels of AUM, we believe they will need to round out their C-suite with more focused roles," said Matt Sonnen, Founder & CEO of PFI Advisors. "It's no secret that RIAs struggle with their processes as they add more clients over time, and it is our experience that at some point in the evolution of the firm professional management will need to be hired to take the firm to the next level."
With this report, PFI Advisors hopes to shed light on the crucial work that CCO's do on a daily basis and further validate the benefits that professional management can provide to RIAs. "We are extremely appreciative to the Chief Compliance Officers and industry consultants who supported this research and are excited to offer the industry the opportunity to benefit from their experience and wisdom," Sonnen said.
To read the full report, click here.
To learn more about PFI Advisors, visit https://pfiadvisors.com/. Follow us on Twitter and LinkedIn, or subscribe to our blog or our podcast.
###
About PFI Advisors
PFI Advisors ("Promoting Financial Independence") was founded in 2015 with the following mission in mind:
To further evolve the RIA industry from a collection of practices to businesses, and to be a continued voice in validating the industry as a legitimate landing spot for billion-dollar teams and their clients.
PFI Advisors is an operational consulting firm that supports the unique back office, technology, and operational needs of RIAs in growth mode. PFI Advisors conducts Technology Assessments, manages Technology Conversions, and provides M&A Preparation and Integration Services to RIAs seeking growth support. The firm announced the launch of COO Resource in January 2018, an ongoing retainer-based service in which RIAs and their Chief Operating Officers can leverage the knowledge and expertise of PFI.
For breakaway advisors, PFI Advisors manages full RIA set up and transition to Independence, including office buildout, RIA infrastructure development, client transition, and billing services – all for a simple consulting fee. There is no complicated long-term AUM fee structure or equity stake required to build the firm's future and provide advisors financial independence.
Media Contact:
Anna Maria Garcia
(424) 336-9753