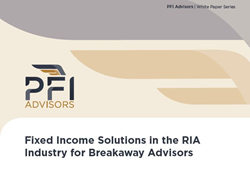 LOS ANGELES (PRWEB) May 22, 2019
PFI Advisors ("Pure Financial Independence") announced today the release of a new industry report (the seventh in its continuing educational series) on the increasing number of fixed income solutions available to RIAs in the Independent channel.
The report, "Fixed Income Solutions in the RIA Industry for Breakaway Advisors," showcases the expansive fixed income capabilities the RIA industry presents as well as provides key information for advisors looking to access individual bonds in a scalable manner.
As one of the most vital investments in a client's properly diversified portfolio, a main concern for breakaway advisors leaving a wirehouse is replicating the fixed income solutions they once had available to them at their former firm. Wirehouse advisors are often sold on the idea that the independent channel cannot support sophisticated investment solutions. However, coinciding with the maturation of the RIA industry, has been the rise of innovative solutions that allow advisors to access fixed income investments in whatever fashion they so choose.
With the goal of debunking these rumors perpetuated within the wirehouses, this report profiles three leading financial technology offerings that allow advisors to access and trade individual bond securities:

280 CapMarkets – A technology platform that leverages cloud-based services to provide advisors a broad universe of bonds, pre-trade price clarity, and best execution support
CBXmarket – A financial technology company that enables advisors to efficiently navigate through the bond markets by leveraging their best-in-class portfolio management software solution
Northern Capital – A leading fixed income investment platform that allows advisors to create customized portfolios of individual bonds at institutional prices
"One of the top concerns we hear from advisors considering Independence is their fear of not having access to the sophisticated products they used at their former wirehouse employer," says Matt Sonnen, Founder & CEO of PFI Advisors. "When in reality, the case is the exact opposite – independent RIAs actually have more choice and flexibility for their clients due to their open architecture and ability to access high quality fixed income solutions from the many new, innovative platforms now available in the rapidly growing Independent space."
To read the full report, click here.
To learn more about PFI Advisors, visit https://pfiadvisors.com/. Follow us on Twitter and LinkedIn, or subscribe to our blog or our podcast.
###
About PFI Advisors
PFI Advisors ("Pure Financial Independence") was founded in 2015 with the following mission in mind:
To further evolve the RIA industry from a collection of practices to businesses, and to be a continued voice in validating the industry as a legitimate landing spot for billion-dollar teams and their clients.
PFI Advisors is an operational consulting firm that supports the unique back office, technology, and strategic needs of RIAs in growth mode. PFI Advisors conducts Operational Diagnostics, manages Technology Conversions, and provides M&A Preparation and Integration Services to RIAs seeking growth support. The firm announced the launch of COO Resource in January 2018, an ongoing retainer-based service in which RIAs and their Chief Operating Officers can leverage the knowledge and expertise of PFI.
For breakaway advisors, PFI Advisors manages full RIA set up and transition to Independence, including office buildout, RIA infrastructure development, client transition, and billing services – all for a simple consulting fee. There is no complicated long-term AUM fee structure or equity stake required to build the firm's future and provide advisors Pure Financial Independence.
Media Contact:
Anna Maria Garcia
(424) 336-9753