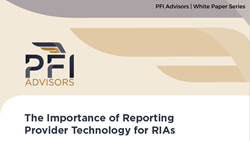 LOS ANGELES (PRWEB) May 12, 2020
PFI Advisors ("Promoting Financial Independence") announced today the release of a new industry report (the ninth in its continuing educational series) on reporting provider technology available to RIAs in the Independent channel.
The report, "The Importance of Reporting Provider Technology for RIAs," showcases four industry-leading reporting solutions for RIAs and discusses Reporting as the "hub" through which all data flows across the rest of an RIA's back-office infrastructure.
For advisors transitioning to the Independent channel, reporting providers offer the first chance to provide their clients a holistic picture of their total net worth, including assets held outside of the advisor's purview. Today's providers offer reporting, data aggregation, and billing as basic services, while some are also developing innovative solutions to aid in a firm's compliance and marketing efforts as well.
With the goal of sharing with advisors the options available to them in the Independent channel, this report profiles four industry-leading reporting solutions for RIAs:
Addepar – Offers clients an independent financial technology solution for reporting, data aggregation/verification, and analytics; as well as a variety of integrations including leading CRM and trading solutions.
Black Diamond Wealth Platform – Distinguishes itself by reducing an RIA's operational burden through a focus on the client experience, data breadth and quality, and service—all with the backing of its parent company, SS&C Technologies.
Envestnet | Tamarac– Offers its clients a comprehensive suite of services, including reporting, trading, data aggregation and reconciliation, billing, and CRM software. It leverages Envestnet | Yodlee for data aggregation.
Orion Advisor Solutions – Tech suite includes client experience tools, tax-intelligent rebalancing, efficient billing, integrated planning, and automated compliance monitoring, all aimed at empowering advisors to improve their firm's productivity.
"When wirehouse or IBD advisors approach us and ask, 'As an RIA, how will I recreate the products and services I've always offered to my clients throughout my career, as an employee at my current firm?' we always tell them to choose a custodian first, and a reporting provider second," says Matt Sonnen, Founder & CEO of PFI Advisors. "The reporting provider technology will act as the Control Center for the RIA's back office infrastructure, and we are grateful for our technology partners who offered their time and expertise to our research for this report."
To read the full report, click here.
To learn more about PFI Advisors, visit https://pfiadvisors.com/. Follow us on Twitter and LinkedIn, or subscribe to our blog or our podcast.
About PFI Advisors
PFI Advisors ("Promoting Financial Independence") is a consulting firm that helps financial advisors build more impactful and profitable enterprises. It was founded in 2015 with the following mission in mind:
To further evolve the RIA industry from a collection of "practices" to "businesses," and to be a continued voice in validating the industry as a legitimate landing spot for billion-dollar teams and their clients.
For breakaway advisors, PFI Advisors manages full RIA set up and transition to Independence, including office buildout, RIA infrastructure development, client transition, and billing services – all for a simple consulting fee.
PFI Advisors also conducts Technology Assessments, manages Technology Conversions, and provides M&A Preparation and Integration Services to RIAs seeking growth support.
Intuitive Infrastructure + Cohesive Culture + Alleviating Advisor Time = Profitability